You are here
Pam
"It's difficult to remember a time when there weren't books and the love of them in my life. My greatest joy was the Christmas gift that I knew contained that new hardcover carrying with it its smell, feel and prospect of hours spent delving into some new and magical place.
When, a few years ago, I saw a reissue of one of those books with a medallion affixed to the cover announcing its 50th Anniversary, I was at first depresed and I was so old and stunned that so much time had scurried past! Then I realized that I've carried no other consistant passion with me for all those years, and smiled contentedly.
I'm still captivatd by those same childhood sensations and fortunately have found a place where I can try to share them with you!"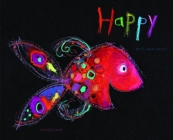 $17.95
ISBN: 9781935954149
Availability: On Our Shelves Now
Published: Lemniscaat USA - April 1st, 2012
I promise this book will leave you gobsmacked! When it arrived in the store, I joyously carried it around with me for an entire day, pressing it into the hands of every co-worker and customer available. Seemingly drawn in colored chalk on a blackboard, double-page spreads show vibrant renderings of fish certainly not found in nature, swimming on one page with the single word emotion they portray printed on the opposite one in a style that corresponds to their feeling. Simple, right? Yep -- but I defy you not to be completely caught up in their "lives." "Confused," looking wide-eyed and made from variegated yard fragments; "Sure" smiling and with all his scales in orderly rows swimming confidently toward the page's edge. "Bored" is droopy-eyed and seems to be floating in place, while "Delighted" is making great progress through his ocean with joyful eyes and cherubic smile. Twenty-one emotions -- 21 images that are unforgettable. Whether you're 3, 30, or 300 years old, this book is all about how it makes you feel every time you read it...and it won't be just once!
---

$13.95
ISBN: 9780385721813
Availability: On Our Shelves Now
Published: Anchor Books - October 14th, 2003
A very personal and utterly compelling rendering of the Japanese internment told from the perspectives of different members of a single family. I first read this 10 years ago and love it...still do! A slim novel with huge staying power.
---

$15.00
ISBN: 9780307950659
Availability: Usually Ships in 1-5 Days
Published: Vintage - January 1st, 2013
One of the world's most respected mystery authors tackles an homage to her beloved Jane Austen by picking up the characters from Pride & Prejudice and dumping them in the middles of a murder. No derisive sniffs, please. She accomplishes it with great success and reverance. A delightful read.
---