Tuesday, September 17
7:00pm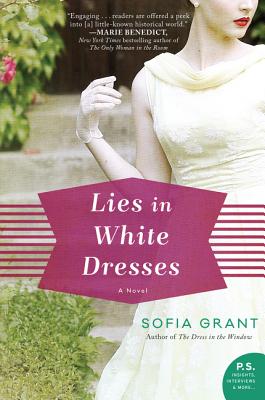 EAST BAY BOOKSELLERS welcomes Sofia Grant & R.H. Herron to discuss their new books Lies in White Dresses and Stolen Things on Tuesday, September 17th at 7pm.
Lies In White Dresses:
Award winning author Sofia Grant weaves an entrancing tale of female friendship and new beginnings inspired by the true stories of those who "took the Reno cure". In the 1940s and 50s, women who needed a fast divorce went to Nevada to live on a ranch with other women in the same boat. Francie Meeker and Vi Carothers were sold a bill of goods: find a man, marry him in a white wedding gown, and live happily ever after. These best friends never expected to be on the train to Reno, those "lies in white dresses" shattered, their marriages over. On board the train they meet June Samples, who is fleeing an abusive husband with her daughter, and take the vulnerable young mother under their wing. The three decide to wait out the required six weeks together, and then they can toss their wedding bands into the Truckee River and start new lives as divorcees. But as they settle in at the ranch, one shocking moment will change their lives forever. As it brings their deceptions and fears into focus, it will also demand a reckoning with the past, and the choices that a person in love can be driven to make.
Stolen Things:
Laurie Ahmadi has worked as a 911 police dispatcher in her quiet Northern California town for almost two decades, but nothing in her nearly twenty years of experience could prepare her for the worst call of her career—her teenage daughter, Jojo, is on the other end of the line. She is drugged, disoriented, and in pain, and even though the whole police department springs into action, there is nothing Laurie can do to help. Jojo, who has been sexually assaulted, doesn't remember how she ended up at the home of Kevin Leeds, a pro football player famous for his work with the Citizens Against Police Brutality movement, though she insists he would never hurt her. And she has no idea where her best friend, Harper, who was with her earlier in the evening, could be. As Jojo and Laurie begin digging into Harper's private messages on social media to look for clues to her whereabouts, they uncover a conspiracy far bigger than they ever could have imagined. With Kevin's freedom on the line and the chances of finding Harper unharmed slipping away, Laurie and Jojo begin to realize that they can't trust anyone to find Harper except themselves, not even the police department they've long considered family . . . and time is running out.
About the Authors:
Stolen Things is the first suspense novel by R. H. Herron, the pseudonym of an author who lives and teaches writing in California. For seventeen years she worked as a 911 fire/medical dispatcher, and this book is loosely inspired by actual events.
Sofia Grant has the heart of a homemaker, the curiosity of a cat, and the keen eye of a scout. She works from an urban aerie in Oakland, California.
Event date:
Tuesday, September 17, 2019 - 7:00pm
Event address:
East Bay Booksellers
5433 College Avenue

$18.69

ISBN: 9780062861863
Availability: Special Order - Arrival Times Vary
Published: William Morrow Paperbacks - September 17th, 2019
---

$28.60
Email or call for price.
ISBN: 9781524744908
Published: Dutton - August 20th, 2019
---