Thursday, November 15th


7pm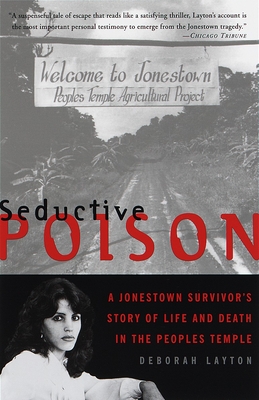 EAST BAY BOOKSELLERS welcomes Deborah Layton, Judy Bebelaar, & Julia Scheers to read from their books and discuss the tragedy of Jonestown and the People's Temple to commemorate the 40th anniversary.
ABOUT THE AUTHORS
Deborah Layton was born in Tooele, Utah, in 1953. She grew up in Berkeley, California, and attended high school in Yorkshire, England. After her escape from Jonestown, Guyana, in May 1978, she worked on the trading floor of an investment banking firm in San Francisco. She lives with her family in the San Francisco Bay Area. She is the author of Seductive Poison: A Jonestown Survivor's Story of Life and Death in the People's Temple.
Julia Scheeres is the author of New York Times bestselling memoir Jesus Land. She lives in Berkeley, California with her husband and two daughters. She will be reading from her book A Thousand Lives: The Untold Story of Jonestown.
Judy Bebelaar taught for 37 years in San Francisco public high schools: Samuel Gompers, Opportunity, Galileo, McAteer and International Studies Academy. She found success helping her students find joy in writing their lives, inviting poets into her classroom, and publishing student work in anthologies and, for twenty years, in a prize-winning multicultural literary/art calendar. Her students won many awards, including eight from Scholastic Magazine on the national level. Judy was honored on the national level as well: by State Farm, the Good Neighbor Teacher Award in 1996 (one of 8 nationally); by Business-Week/McGraw Hill in 1994, for innovative practices in teaching; and by Scholastic, The Whitehouse Women's Leadership in Teaching, in 2002. She will be reading from her book And Then They Were Gone: Children of People's Temple from San Francisco to Jonestown, which she co-authored along with Ron Cabral.
Event date:
Thursday, November 15, 2018 - 7:00pm
Event address:
East Bay Booksellers
5433 College Avenue

$17.00
ISBN: 9781416596400
Availability: On Our Shelves Now
Published: Free Press - November 13th, 2012
---

$16.95
ISBN: 9780385489843
Availability: On Our Shelves Now
Published: Anchor - November 9th, 1999
---