Thursday, November 21


7pm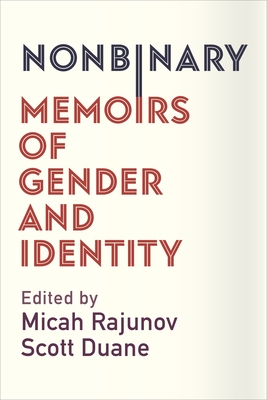 EAST BAY BOOKSELLERS is excited to welcome Scott Duane to discuss, Nonbinary: Memoirs of Gender and Identity, on Thursday, November 21st at 7pm.
What happens when your gender doesn't fit neatly into the categories of male or female? Even mundane interactions like filling out a form or using a public bathroom can be a struggle when these designations prove inadequate. In this groundbreaking book, thirty authors highlight how our experiences are shaped by a deeply entrenched gender binary.
The powerful first-person narratives of this collection show us a world where gender exists along a spectrum, a web, a multidimensional space. Nuanced storytellers break away from mainstream portrayals of gender diversity, cutting across lines of age, race, ethnicity, ability, class, religion, family, and relationships. From Suzi, who wonders whether she'll ever "feel" like a woman after living fifty years as a man, to Aubri, who grew up in a cash-strapped fundamentalist household, to Sand, who must reconcile the dual roles of trans advocate and therapist, the writers' conceptions of gender are inextricably intertwined with broader systemic issues. Labeled gender outlaws, gender rebels, genderqueer, or simply human, the voices in Nonbinary illustrate what life could be if we allowed the rigid categories of "man" and "woman" to loosen and bend. They speak to everyone who has questioned gender or has paused to wonder, What does it mean to be a man or a woman--and why do we care so much?
ABOUT THE AUTHOR
Sand Chang, PhD (they/them/theirs) is a Chinese American nonbinary psychologist, educator, and advocate from Oakland, CA who works at NCAL Kaiser Permanente Transgender Services, Stanford University, and in private practice. Outside of their professional work, Sand is a dancer, avid foodie, and pug enthusiast.
Sinclair Sexsmith
is "the best-known butch erotica writer whose kinky, groundbreaking stories have turned on countless queer women" (AfterEllen), who "is in all the books, wins all the awards, speaks at all the panels and readings, knows all the stuff, and writes for all the places" (Autostraddle). Their short story collection, Sweet & Rough: Queer Kink Erotica, was a 2016 finalist for the Lambda Literary Award. They identify as a white non-binary butch dominant, a survivor and an introvert, and use the pronouns they, them, theirs, themself. Follow all their writings at
patreon.com/mrsexsmith
.
Scott Duane
is a queer trans guy in his 30's living in Oakland, CA. He thinks that storytelling is a powerful medium for change, especially in marginalized communities. In addition to pursuing his love of writing, Scott is a mathematician, a software developer, and an avid modern dancer.
Event date:
Thursday, November 21, 2019 - 7:00pm
Event address:
East Bay Booksellers
5433 College Avenue

$22.00
ISBN: 9780231185332
Availability: On Our Shelves Now
Published: Columbia University Press - April 9th, 2019
---