Wednesday, Sept 25


7pm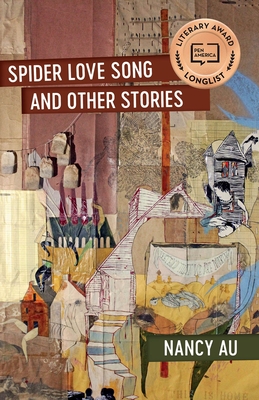 EAST BAY BOOKSELLERS is excited to welcome Nancy Au to celebrate the publication of their debut short story collection, Spider Love Song and Other Stories, on Wednesday, September 25th at 7pm. They will be joined by Natasha Dennerstein, Tomas Moniz, Kimberly Gomes, and Carson Beker.
Nancy Au's debut collection is rich with scents, sounds, imaginative leaps, and unexpected angles of vision. These seventeen stories present the challenges facing characters whose inner and outer lives often do not align, whose spirits attempt flight despite dashed hopes and lean circumstances. Marginalized by race, age, and sexuality, they endeavor to create new worlds that honor their identities and their Chinese heritage.

Au excels at inhabiting the minds and hearts of children and the elderly. In the title story, Sophie Chu dresses daily in her increasingly shabby elephant costume to ensure her missing parents recognize her upon their return. In "The Unfed," a village elder seeks to revive, with her dimming magic, a mountain community struck by tragedy. "Louise" follows, with deceptive hilarity (involving a one-eyed duck), the nuanced give and take between May Zhou and Lai, dissimilar yet passionate partners considering parenthood. The volume also offers sparkling speculative work that taps into the strength of nature—fox spirits and fire beetles, swollen rivers and rippling clouds—to showcase the sometimes surreal transformations of Au's protagonists.

Spider Love Song and Other Stories treads the fault line that forms between lovers, families, friends, cultures—exposing injuries and vulnerabilities, but also the strength and courage necessary to recast resentment and anger into wonder and power. Au's lyrical style, humor, and tender attention to her characters' fancies and failings make this powerful debut a delight to read.
ABOUT THE AUTHOR
NANCY AU is an Oakland-based writer and co-founder of The Escapery. She received her MFA in creative writing from San Francisco State University where she teaches creative writing (Fall 2019). She also teaches creative writing (to biology majors!) at California State University Stanislaus. Her stories and essays are published in many journals including, most recently, Redivider, Gulf Coast, The Cincinnati Review, Catapult, and Michigan Quarterly Review. She is the winner of Redivider's 2018 Blurred Genres Contest, The Vestal Review's 2018 VERA Flash Fiction Prize, and her flash fiction is included in the Best Small Fictions 2018 anthology. Her debut full-length collection, SPIDER LOVE SONG AND OTHER STORIES, is published by University of Cincinnati's Acre Books.
CARSON BEKER (ASH) is a fiction writer, playwright, storyteller, former Fiction Editor of Fourteen Hills Literary Magazine and co-founder of the Pirate Art School The Escapery. Their stories, reviews, and essays have appeared in, among others, Fairy Tale Review, Cutthroat, Spunk, Foglifter, Gigantic Sequins, Utterance, and Radar Literary Series. Their plays have been produced or are in development through Custom Made Theater, Exit Theater, and Z-Below. They are a Lambda Emerging Writer Fellow in Fiction, and a former Tin House Scholar, and a member of Clarion West 2018. They are the co founder of Queer Cat Productions theater company.
NATASHA DENNERSTEIN was born in Melbourne, Australia, to a family originating in Belarus. She worked as a psychiatric nurse for many years, which gave her an interesting perspective on the human condition. Natasha studied creative writing at Whitireia polytechnic in New Zealand and went on to take her Masters in creative writing from the International Institute of Modern Letters at Victoria University. She has an MFA from San Francisco State University. Natasha has had poetry published in many journals including, among others, Fourth Floor, Landfall, Snorkel, JAAM, Takahe, Bloom, Red Light Lit, Foglifter, Spoon River Poetry Review, and Sparkle+Blink. Natasha is currently on the editorial team of Nomadic Press in Oakland. Her debut collection of poetry, ANATOMIZE, was published by Norfolk Press in 2015. Her second
collection, TRIPTYCH CALIFORM, was published in 2016. Her trans chapbook, SEAHORSE, was published by Nomadic Press in 2017. And her newest book, TURN AND FACE THE STRANGE was recently released by Norfolk Press (2019).
KIMBERLY GOMES is a San Francisco writer, visual storyteller, and outdoor explorer. She received her MFA in creative writing from San Francisco State University, where she wrote her first women's adventure novel, A ROAD OF HER OWN, and a chapbook of poetry, LOVE NOTES TO THE BODY, which was recently published with Dancing Girl Press. Her writing has been featured in publications such as, Rogue Agent, sparkle + blink, Sunset Magazine and The San Francisco Chronicle. Learn more about her writing and video projects at www.kimberly-gomes.com.
TOMAS MONIZ edited RAD DAD and RAD FAMILIES. His novella BELLIES AND BUFFALOS is about friendship, family and Flamin' Hot Cheetos. He's the recipient of the SF Literary Arts Foundation's 2016 Award, the 2016 Can Serrat Residency, the 2017 Caldera Residency and others. He's recently been published in, among others, Barrelhouse, and was awarded the 2018 SPACE on Ryder Farm residency. He recently released ALL FRIENDS ARE NECESSARY, a chapbook with Mason Jar Press (July 2019), and his debut novel, BIG FAMILIA, will launch with Acre Books (November 2019).
Event date:
Wednesday, September 25, 2019 - 7:00pm
Event address:
East Bay Booksellers
5433 College Avenue

$18.70

ISBN: 9781946724205
Availability: Usually Ships To the Store in 1-5 Days
Published: Acre Books - September 15th, 2019
---