Wednesday, June 13


7pm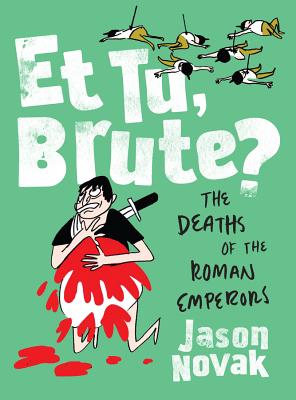 EAST BAY BOOKSELLERS welcomes Jason Novak to discuss his dark and hilarious book, Et Tu, Brute: The Deaths of the Roman Emperors, on Wednesday, June 13th at 7pm.
"This twisted and fantastically illustrated survey of the brutal fate of every Roman Emperor is a strong reminder to study history—because we sure as hell don't want to repeat it." — Wendy MacNaughton, best-selling author of PEN & INK
A work of cartoon history with a touch of Edward Gorey's dark wit, Et Tu, Brute? is an irreverent, illustrated compendium of the deaths of all the Roman emperors, from Augustus to Romulus Augustulus. Here in all their glory are Nero (stabbing himself in the throat), Tiberius (smothered in his sleep by his successor), Caligula (killed by his own praetorian guard), Claudius (fed poisonous mushrooms by his wife), Commodus (strangled by his wrestling partner), Antoninus (died of a surfeit of cheese), and many more.
Event date:
Wednesday, June 13, 2018 - 7:00pm
Event address:
East Bay Booksellers
5433 College Avenue

$16.95
ISBN: 9780393635737
Availability: Usually Ships in 1-5 Days
Published: W. W. Norton & Company - June 12th, 2018
---