Tuesday, October 16
7:00pm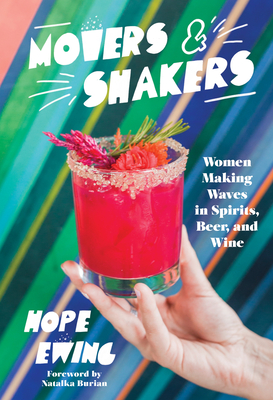 EAST BAY BOOKSELLERS welcomes Hope Ewing to discuss her new new book Movers and Shakers, on Tuesday, October 16th at 7pm. She will be in conversation with Maggie Hoffman (The One-Bottle Cocktail), Martha Stoumen, Araya Andersen, & Andie Ferman.
In her travels across the country, Hope Ewing discovers how women are paving the way and creating a more inclusive and sustainable world full of delicious drinks.
A veteran bartender, Ewing had grown impatient with the surprisingly outdated perceptions of women in the alcohol industry. Entrepreneurial and ambitious, often the first in their fields, the women she knew in the business were leaders, mentors, and trailblazers. In Movers and Shakers, Ewing seeks them out, to share their stories as well as valuable business advice and insight into a constantly evolving industry.
* * *
ABOUT THE AUTHOR
Hope Ewing grew up in a haunted house surrounded by forest and sheep pastures in western New York State. After a decade raising money for New York City arts organizations, she received an MFA in creative writing from Columbia University and promptly moved to Los Angeles, where she finally became serious about bartending. Combining the twin passions of writing and drinking, she seeks to illuminate how intoxication and culture intersect, for better and for worse. Her work appears in PUNCH, Serious Eats, and other fine publications. She lives in LA with her partner and step-chihuahua, and her favorite drink is all of them.
Martha Stounem went to work in the vineyard, olive orchard, and winery of a small farm and learning center in Tuscany after studying traditional agricultural systems and Italian during her undergraduate degree. The majority of her farm work took place in the vineyard rather than the winery, so she entered the world of wine production through the lens of a vigneronne rather than a typical modern California winemaker who spends very little to no time in the vineyard. Martha has had the pleasure of apprenticing under Reinhard Löwenstein (Heymann-Löwenstein, Mosel), Jordan Fiorentini (Chalk Hill, California) Chris Brockway (Broc Cellars, California), Clive Dougall (Seresin, Marlborough), Didier Barral (Léon Barral, Faugères, France), and Giusto Occhipinti (COS, Sicily).
MAGGIE HOFFMAN is the author of The One-Bottle Cocktail: More than 80 Recipes with Fresh Ingredients and a Single Spirit (Ten Speed Press), which was a top-four finalist for the Tales of the Cocktail Spirited Award for best cocktail book of 2018. She founded the drinks section of Serious Eats in 2011, and served as the managing editor for the James Beard award-winning site. These days, she reviews bars for the San Francisco Chronicle, and her work has appeared in Sunset, Wine Enthusiast, San Francisco Magazine, and the websites of Saveur, Food & Wine, Punch, Taste, and others. She lives in San Francisco.
Araya Andersen received her bachelors in sociology from UC Berkeley in 2012 and immediately started putting her degree to work as first a cocktail server, then barback, and finally bartender at Rye Bar SF. Shortly thereafter, she was given the opportunity to be a part of the opening staff at Horsefeather, both of which bars she currently works at today. Captured most by the artistic aspect of her profession, she loves to make beautiful cocktails with a lasting impression. She strives for more women to gain recognition behind the bar and in the world at large.
Andie Ferman has been working in hospitality in the Bay Area for over 20 years and has established a name for herself by crafting memorable experiences for industry professionals and members of the public alike. Passionate about all things booze, Andie takes pride in keeping her finger on the pulse of the exciting world of beverages, and hopes to be amongst the boozers and shakers for many years to come.
Event date:
Tuesday, October 16, 2018 - 7:00pm
Event address:
East Bay Booksellers
5433 College Avenue

$23.99
ISBN: 9781944700645
Availability: On Our Shelves Now
Published: Unnamed Press - October 9th, 2018
---