Monday, February 17th


7pm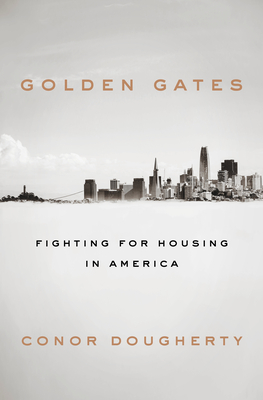 EAST BAY BOOKSELLERS is excited to welcome Conor Dougherty to read from his new book, Golden Gates: Fighting for Housing in America on Monday, February 17th at 7pm. He will be joined in conversation by Frances Dinkelspiel.
Spacious and affordable homes used to be the hallmark of American prosperity. Today, however, punishing rents and the increasingly prohibitive cost of ownership have turned housing into the foremost symbol of inequality and an economy gone wrong. Nowhere is this more visible than in the San Francisco Bay Area, where fleets of private buses ferry software engineers past the tarp-and-plywood shanties where the homeless make their homes. The adage that California is a glimpse of the nation's future has become a cautionary tale.

With propulsive storytelling and ground-level reporting, New York Times journalist Conor Dougherty chronicles America's housing crisis from its West Coast epicenter, peeling back the decades of history and economic forces that brought us here and taking readers inside the activist uprisings that have risen in tandem with housing costs.

To tell this new story of housing, Dougherty follows a struggling math teacher who builds a political movement dedicated to ending single-family-house neighborhoods. A teenaged girl who leads her apartment complex against their rent-raising landlord. A nun who tries to outmaneuver private equity investors by amassing a multimillion-dollar portfolio of affordable homes. A suburban bureaucrat who roguishly embraces density in response to the threat of climate change. A developer who manufactures homeless housing on an assembly line.

Sweeping in scope and intimate in detail, Golden Gates captures a vast political realignment during a moment of rapid technological and social change.
ABOUT THE AUTHOR
Conor Dougherty is an economics reporter at The New York Times. He previously spent a decade in New York covering housing and the economy for The Wall Street Journal. He grew up in the Bay Area and lives with his family in Oakland.
Frances Dinkelspiel is an award-winning author and journalist and a co-founder of the news site Berkeleyside. Her work has appeared in the New York Times, Wall Street Journal, Los Angeles Times, Daily Beast, People magazine and elsewhere. Her most recent book, Tangled Vines: Greed, Murder, Obsession and an Arsonist in the Vineyards of California, was a New York Times and San Francisco Chronicle bestseller and was named a best wine book of the year by the Wall Street Journal and Food and Wine magazine. Her first book, Towers of Gold: How One Jewish Immigrant Named Isaias Hellman Created California, was a San Francisco Chronicle bestseller and chosen as a best book of the Year by the Chronicle and the Northern California Independent Booksellers' Association.
Event date:
Monday, February 17, 2020 - 7:00pm
Event address:
East Bay Booksellers
5433 College Avenue

$28.00
ISBN: 9780525560210
Availability: On Our Shelves Now
Published: Penguin Press - February 18th, 2020
---