Thursday, September 13
7:00pm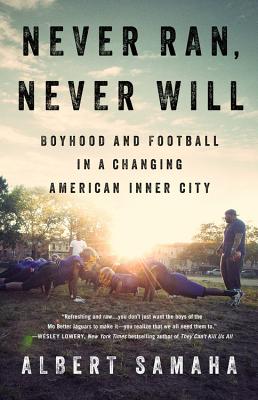 EAST BAY BOOKSELLERS welcomes Albert Samaha to discuss his book Never Ran, Never Will: Boyhood and Football in a Changing American Inner City, on Thursday, September 13th at 7pm.
The Mo Better Jaguars are the pride of Brownsville, a poor neighborhood in Brooklyn where New York City's decades of economic and social improvement have had little effect. As parts of America increasingly turn away from football, Brownsville's parents and coaches see virtue in the game's physicality and competitiveness: refuge from the gang feuding that consumes much of the streets, and valuable lessons on how to survive in that unforgiving environment. In their best years, the Jaguars have been regional champions, and sent players to the highest levels of college football.
This book, years in the reporting, tells the story of the Jaguars and the children -- some as young as nine -- who grow and change as they enter this world. Oomz, Gio, Hart, and the rest of the team are charismatic and vulnerable and hardening all at once, a powerful cast of characters whose lives take shape in these pages. Their stories of learning about manhood, teamwork, and certain hard truths about American life chip away at the myth that the norms and values of low-income communities perpetuate poverty.
Never Ran, Never Will is a complex, humane story about the new world of America's inner cities. Largely ignored by the public discourse, these communities suffer economic pain, crime, and a sense that progress belongs to other people, all the while fighting to keep their unique, intimate culture strong.
* * *
ABOUT THE AUTHOR
Albert Samaha is a criminal justice reporter at BuzzFeed. He has worked at The Village Voice, San Francisco Weekly, the San Francisco Examiner, and the New York Observer. His stories have won awards from the National Association of Black Journalists, the Association of Alternative Newsmedia, and others. He is a graduate of Columbia's Graduate School of Journalism and lives in New York City.
Event date:
Thursday, September 13, 2018 - 7:00pm
Event address:
East Bay Booksellers
5433 College Avenue

$28.00
ISBN: 9781610398688
Availability: On Our Shelves Now
Published: PublicAffairs - September 4th, 2018
---