You are here
Front Page: Short Stories (Paperback)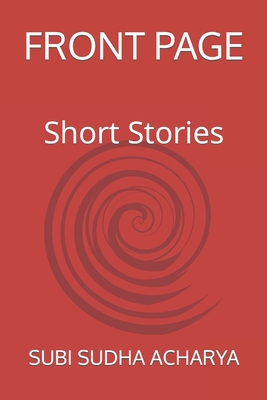 $11.49

Usually Ships To the Store in 1-5 Days
This book cannot be returned / is non-refundable.
Description
---
Product Description: This book is a collection of short stories translated into English from Nepali author by SUBISUDHA ACHARYA. Price: $9.99, Publication: 2021, Language: English, Paperback: 90 page, ISBN: 978-1-63821-427-4, Item Weight: 6.9 ounces, Dimensions: 6*0.45*9 inches What You'll learn: You will have a idea of values that regulate or question gender, familial and social relationship in Nepal. The stories foreground the paradoxes that underscore relationships, and tell how those relationships receive a shock from unexpected ends. By doing so, they draw the readers' attention towards the fault-lines that jeopardize human relationship. Who This Book is For: This book is for any adult readership interested in literature. Young adults might as well read them. Reviews: Subisudha Acharya, active equally in journalism and literary writing, excels in different literary genres. A talent who has been constantly honing her capability as a writer, columnist and editor, she has also proven her skill in the literary field.-Gorkhapatra Daily, Nepal 2 July 2008 Since most of the stories involve first-person narrator or protagonist, there is no chance they remain away from the readers' heart. The employment of apt settings as demanded by the plot, use of befitting language and choice appropriate images make her stories clear and comprehensible. -Nepal Samacharpatra Daily, Nepal 7 November 2009. Most of Subisudha's stories, woven on the basis of reality, make successful depiction of social malice, anomalies and rotten mentalities inside people. The author is successful in creating stories through appropriate selection of characters from various classes, regions, contexts and manners. -.Madhupark Monthly, Nepal Sept-Oct, 2009 The author has established herself among the young generation by picking love as her central subject in most of her stories. In the meantime, she has made attempts to draw adult readers' attention as well by addressing serious issues like life and philosophy. -Rajdhani Daily, Nepal 22 July 2008. Subisudha Acharya is a woman signature who has landed in the lane of fictions with a new technique. She has the talent of picking up an incident and casting it in an appropriate setting. This very talent has enabled Ms Acharya to earn fame as a successful storywriter in Nepali literature. Her pen is sharp.Prof. Gopi Krishna Sharma, Rahasyamaya Bhogai Book, 2008 About the Author: Subisudha Acharya, born in Nepal and now settled in the USA, is a storywriter, columnist, editor and journalist. She has published several stories and songs. She lives in Spotsylvania Country, Virginia, USA with her husband and seven-year-old daughter.