You are here
Maya y Selou. Selou y Maya (Hardcover)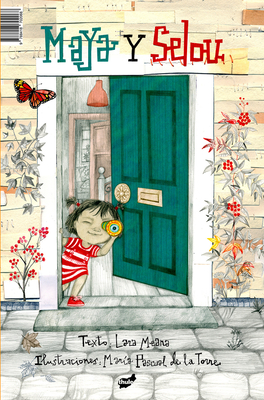 $14.95

Coming Soon - Available for Pre-Order Now
Description
---
Un par de vecinos, Selou y Maya, comparten las mismas actividades cotidianas: despertar, comer, jugar, bañarse y escuchar cuentos. Sin embargo, a pesar del mismo día a día, cada uno crea universos muy distintos.
Mientras Selou se imagina galopando sobre su caballo en la sabana o asustando a los cocodrilos en el río, Maya desea recorrer la India a lomos de un elefante rojo o nadar en las fuentes del Nilo.
El libro tiene dos cubiertas: una para Maya y otra para Selou. <br><br> Two neighborhood children share the same daily activities: wake up, eat, play, shower, and listen to stories. However, each of them creates a very different world from their day-to-day experiences. Selou is a young boy that imagines himself galloping on his horse or terrifying crocodiles in the river. Maya is a young girl that wishes to ride atop an elephant in India or swim in the Nile.
This book contains 2 covers, one for Maya and one for Selou.
 
About the Author
---
Licenciada en la Facultad de Bellas Artes de Madrid (1997), especialidad Pintura, con la calificación de Premio Extraordinario y Primer Premio Nacional fin de carrera de educación universitaria. De 2003 a 2007 ha trabajado como ilustradora freelance. Desde 2008 es directora de arte de la agencia de diseño Pluviam. Como pintora ha participado en numerosas exposiciones individuales y colectivas en España. Como ilustradora ha colaborado con las editoriales Siruela, Palabra, Edimat y las revistas Nosotras, Elle, AR, Mía. Lara Meana es librera especialista en LIJ, promotora de lectura y escritora, regenta en Gijón El Bosque de la Maga Colibrí, librería y proyecto de promoción cultural. <br><br> In 1997, Lara Meana received a degree from Madrid's School of Fine Arts. She is a successful painter who won the Extraordinario Award and the Primer Premio Nacional Award prior to graduating from university. She found work as a freelancer from 2003 to 2007 and has been the director of the Pluviam Agency of Design since 2008.
 
As a painter, she has participated in numerous art exhibits throughout Spain, and as an illustrator she has worked for publishers like Siruela, Palabra, Edimat, and the magazines: Nosotras, Elle, AR, and Mía.
 
Lara Meana is a librarian that specializes in LIJ. She is an avid proponent of reading and writing. Lara has worked with Gijón el Bosque de la Maga Colibrí and cultural promotion projects.