You are here
Happy (Hardcover)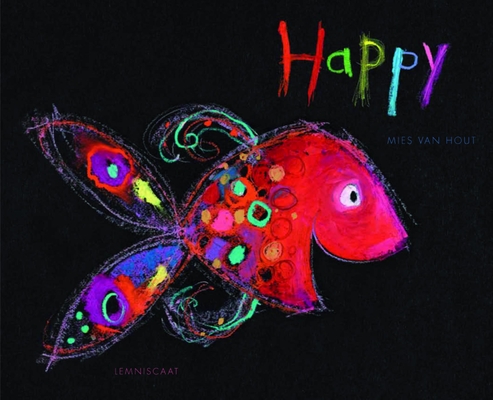 Staff Reviews
---
I promise this book will leave you gobsmacked! When it arrived in the store, I joyously carried it around with me for an entire day, pressing it into the hands of every co-worker and customer available. Seemingly drawn in colored chalk on a blackboard, double-page spreads show vibrant renderings of fish certainly not found in nature, swimming on one page with the single word emotion they portray printed on the opposite one in a style that corresponds to their feeling. Simple, right? Yep -- but I defy you not to be completely caught up in their "lives." "Confused," looking wide-eyed and made from variegated yard fragments; "Sure" smiling and with all his scales in orderly rows swimming confidently toward the page's edge. "Bored" is droopy-eyed and seems to be floating in place, while "Delighted" is making great progress through his ocean with joyful eyes and cherubic smile. Twenty-one emotions -- 21 images that are unforgettable. Whether you're 3, 30, or 300 years old, this book is all about how it makes you feel every time you read it...and it won't be just once!
— From
Pam
Description
---
Clear, strong lines and radiant colors that seem to smile at the reader characterize Mies van Hout's drawings. In Happy, Mies shows all the emotions a young child encounters. Each double page spread is devoted to one fish, showing a particular emotion with its name in lettering that expresses the same feeling. Swim into Happy where the dazzling fish sparkle against the dark background and let the images spark laughter and empathy.
About the Author
---
Mies van Hout (1962) studied at the Arts Academy in Groningen, where she majored in graphic design. She has been working as a freelance illustrator and graphic designer since 1989. Over the years, she illustrated quite a lot of children's books. Her illustrations are cheerful and witty, painted skillfully and distinctly. For Lemniscaat USA, Mies van Hout illustrated "Brave Ben," "The Child Cruncher," "Lovey and Dovey" and "Mine!"
Praise For…
---
School Library Journal on Brave Ben
'the illustrations truly bring the story to life. Irresistibly detailed cartoon characters in black outlines pop out of the fuzzy, rich-toned background paintings, creating pages that readers will want to pore over. ...'