You are here
What Can I Do When I Grow Up?: A Young Person's Guide to Careers, Money - And the Future (Hardcover)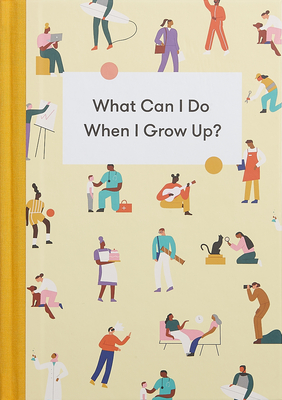 $19.99

On Our Shelves Now (Please wait for us to confirm and & contact you when it's ready)
Description
---
A practical and inspiring children's guide to money, careers, and the future.
Children frequently ask what they should be when they grow up. Surrounded by adults whose jobs seem to define them, they learn to expect simple answers, like "a doctor," or "a teacher, '' or "a lawyer." But the truth can be a lot more complicated. Deciding what to do with your working life is one of the biggest, most difficult questions of all. This beautifully illustrated guide helps expand children's ideas about work and inspire them to think creatively about their future, while reminding them that their dream job might not even exist yet Written expressly for children, this unique book works through important questions like: How can I discover my passions? What does a "good" job involve? How much money should I make? How does the economy function? Perfect for curious kids ages eight and up,
What Can I Do When I Grow Up
is sure to spark fruitful conversations that excite and inspire the next generation.
THE MUCH-ANTICIPATED FOLLOW UP to to Big Ideas for Curious Minds.
A THOUGHTFUL AND PRACTICAL GUIDE to the world of careers, aspirations, and jobs.
TALKS TO CHILDREN ABOUT MONEY in an an approachable, pragmatic way.
BEAUTIFUL ILLUSTRATIONS by Tyla Mason throughout.
INTERACTIVE ACTIVITIES for children 8 and up.
About the Author
---
The School of Life is a global organization helping people lead more fulfilled lives. Through our range of books, gifts and stationery we aim to prompt more thoughtful natures and help everyone to find fulfillment.The School of Life is a resource for exploring self-knowledge, relationships, work, socializing, finding calm, and enjoying culture through content, community, and conversation. You can find us online, in stores and in welcoming spaces around the world offering classes, events, and one-to-one therapy sessions. The School of Life is a rapidly growing global brand, with over 7 million YouTube subscribers, 389,000 Facebook followers, 174,000 Instagram followers and 166,000 Twitter followers. The School of Life Press brings together the thinking and ideas of the School of Life creative team under the direction of series editor, Alain de Botton. Their books share a coherent, curated message that speaks with one voice: calm, reassuring, and sane.