You are here
Christmas Cracker: Gay Erotica for the Holidays (Paperback)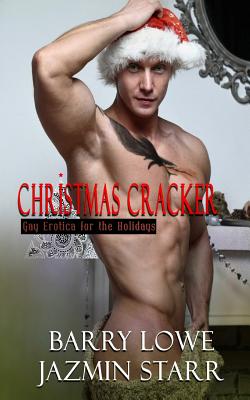 $12.64

Usually Ships To the Store in 1-5 Days
This book cannot be returned / is non-refundable.
Description
---
It's time to be homo for the holidays. Ebenezer Spooge has nothing on the heroes and anti-heroes of these four tales of holiday cheer. In Jazmin Starr's Christmas Carol, the heroine decides to spend the holiday break with her trusty vibrator and a collection of gay porn. Things go horribly wrong and she finds herself inveigled into pretending to be the girlfriend of one side of a hunky gay couple. The price for her compliance is high: she wants to watch the two men make love. Barry Lowe's three stories complete the set. In Fifty Shades of Fey, one of Santa's elves gets himself into all sorts of trouble when he attempts to break into a house to read the Naughty or Nice Meter. He gets a lot more than he bargained for when he falls asleep in the dungeon's leather sling. OMG Santa's Got a Six-Pack is a holiday romance in which a twink comic designer falls for Mr. Perfect, an older man whom he believes to be married. This story's happy ending will have you reaching for the tissues. In Christmas on the Rocks, Steve and Billy continue their incredible adventures of raw, hard sex. Billy takes on a pre-Christmas job as a pizza delivery boy but, much to Steve's chagrin, it isn't just pizza that Billy delivers. Will their relationship survive? This one will also have you reaching for the tissues - but for a very different reason. Excerpt from: Fifty Shades of Fey "What am I going to do with you?" he asked as he paced the office. It was a rhetorical question. He wasn't asking my opinion because he would have already made up his mind what punishment was my due. The United Nations talks a lot about Democracy but what we have here is a dictatorship. Nick's an immortal so there's no chance we'll ever be ruled by anyone more benevolent, or that we'll ever get to vote on anything. Hell, we make the Vatican and the Dalai Lama look positively benign politically in comparison. Nick may have believed that his punishment fitted the crime; I found it harsh and unnecessary. Perhaps not unnecessary - someone had to do it. But it was a shit job usually reserved for the intransigent, the criminal or the insane. To give the old miser credit, he was slowly implementing new technology but some areas were still in the grip of the old-fashioned meters which required on-site readings, much like the gas and electricity meters of yore. Most of the world was now hooked up to Santa's mainframe computer that automatically registered each and every human's naughty or nice quotient until, at midnight on December 24, it spat out a list of those who were deemed worthy of Santa's largesse. I pulled my thin coat tighter around my body, fluffed up my wet scarf around my mouth and nose to prevent the cold from penetrating, and yanked my colorful beanie down over my head to protect the pointy tips of my ears. Sighing loudly, I put my head down to strike out against the buffeting flurry of snow. Why the fuck couldn't he have sent me somewhere warm, like Australia? I knew why. This was punishment. Only the worst suburb in the worst city in the world was good enough for me. While my older brother, Rudolph, sat back home in centrally heated comfort sipping his cinnamon-flavored heated red wine in preparation for the wearying Christmas haul, I put my head down to butt against the snow and wind that stung my face, making the fine hairs bristle on my chin. I cursed again, knowing that by the time I got back having send my readings electronically - if only I could transport my body in such a fashion - I'd be so buggered that when the alarm went off the following morning I'd have so much difficulty shifting, Nick would whip me to hurry along my transformation.
About the Author
---
Barry Lowe writes about love and sex so he won't forget how to do it. When he's not scribbling his adventures for the Sydney gay weekly SX, or out doing field research, he's writing about love's wonderful variations for a series of smut eBooks, novels and anthologies for Lydian Press. Go to www.barrylowe.info Jazmin loves sex. It's a serotonin booster, it's cheaper than a loaf of bread...and nowhere near as fattening unless you're doing it with chocolate sauce or whipped cream. The only thing better than the real thing is writing about it. She loves sex in all its myriad forms. Sometimes she even mixes a little romance with the sex although she thinks vanilla is only for ice cream. jazminstarrwriter.wordpress.com