You are here
Black Lives, Black Words: 32 Short Plays (Paperback)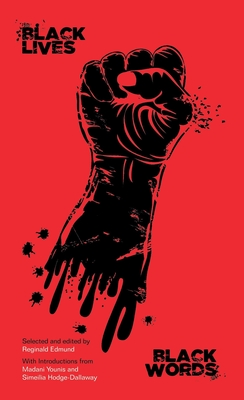 $19.95
On Our Shelves Now (Please wait for us to confirm and & contact you when it's ready)
Description
---
Selected and edited by the award-winning American playwright Reginald Edmund, who produced Black Lives, Black Words across the US, which premiered in Chicago, July 2015. The international project has explored the black diaspora's experiences in some of the largest multicultural cities in the world, Chicago, Minneapolis, Cleveland, Toronto and London. Over sixty Black writers from the UK, USA, and Canada have each written a short play to address Black issues today.
I started
Black Lives, Black Words
because I felt there needed to be an opportunity for me as a playwright to speak out against the sins committed in this world inflicted upon black bodies: Michael Brown, Trayvon Martin, Rekia Boyd, Sandra Bland, Tamir Rice, and the countless many others. This in turn caused me to wonder what other artists were out there that possess this overwhelming desire to speak out for the unheard voices. Companies in Minneapolis with Guthrie Theatre, Carlyle Brown and Company, Bedlam Theatre, Freestyle Theatre, the Million Artist Movement, in Maryland - Columbia Arts Festival, Chicago - Polarity Ensemble Theatre, Toronto - Obsidian Theatre, Buddies and Bad Times Theatre, and the National Arts Centre, along with many others joined us and now, two years later we have given voice to over sixty Black Playwrights and over a hundred performers. From city to city,
Black Lives, Black Words
has remained an event that is accessible and affordable to all. Embraced by a wide range of different theatres that vary in capacity, playing to houses from 70 to 300 audience members. Selling out in every venue. I collected these works showcased at BLBW events from all over in hopes that the narratives that have been placed in here speaks to the Black Struggle, Black Achievement, Black Love, Black Aspirations, Black Hopes, Black Dreams, BLACK EVERYTHING. I hope that the narratives amplify the importance of the Black Lives Matter Movement, that these plays find themselves in theatres both community and regional, in classrooms and libraries, church houses, and communal gathering serving as a rallying cry for those that are artists and even those who are not that OUR BLACK LIVES MATTER, individually, globally, and spiritually. - Reginald Edmund, Managing Curating Producer, Black Lives, Black Words Featured in this collection are: Reginald Edmund, Idris Goodwin, James Austin Williams, Rachel Dubose, Becca C. Browne, Marsha Estell, Aaron Holland, Loy A. Webb, Lisa Langford, Christina Ham, Harrison David Rivers, Dominique Morisseau, Winsome Pinnock, Trish Cooke, Mojisola Adebayo, Rachel De-Lahay, Max Kolaru, Yolanda Mercy, Somalia Seaton, Courttia Newland, Luke Reece, Tawiah BenEben M'Carthy, Jordan Laffrenier, Meghan Swaby, Mary Ann Anane, Allie Woodson, Elliot Sagay, Amira Danan, Cat Davidson, Noelle Fourte, Kori Alston
About the Author
---
Reginald Edmund is a resident playwright of Chicago Dramatists. He was a 2009-2010 and 2010-2011 Playwrights' Center Many Voices Fellowship recipient. He is the founder and producer for the Silver House Playwrights Festival and the Houston Urban Theatre Series.