You are here
Helping Your Child with Sensory Regulation: Skills to Manage the Emotional and Behavioral Components of Your Child's Sensory Processing Challenges (Paperback)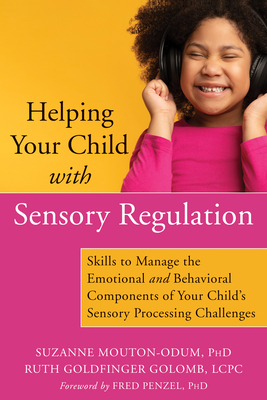 $19.95

Usually Ships To the Store in 1-5 Days
Description
---
A groundbreaking guide to managing the emotional and behavioral components of your child's sensory processing challenges
Imagine having the flu, while lying in a bed of ants, listening to heavy metal at high volume, and trying to do calculus. Now consider living in that body all the time. It becomes easy to understand how kids with difficulties processing and controlling sensory information can become avoidant, anxious, impatient, irritable, or oppositional. If you have a child who has a sensory regulation issue, you may find yourself confused or frustrated by their behavior. This book will help you understand your child's behavior, as well as the root cause of their emotional outbursts, and provides an arsenal of tools to help your child self-regulate.
This book addresses the often-overlooked connection between sensory sensitivity and emotional and behavioral issues, which can often lead to a diagnosis of attention deficit/hyperactivity disorder (ADHD), an anxiety disorder, or a host of other disorders of childhood. You'll gain a better understanding of how your child's sensory sensitivity affects how they feel and act, and also learn powerful sensory regulation skills to help your child manage their emotions and improve relationships with family and friends.
Whether your child has been diagnosed with sensory processing disorder (SPD), ADHD, obsessive-compulsive disorder (OCD), oppositional defiant disorder (ODD), generalized anxiety disorder (GAD), or autism spectrum disorder (ASD), you'll find proven-effective tips and strategies for dealing with the sensory sensitivity that drives your child's emotions and behavior, and discover ways to ease tension in your home caused by your child's disorganization, oppositional behavior, refusal to eat, disruptive behavior, and anxiety.
Parenting can be challenging even when behavior is predictable and age-appropriate, and when a child has a nervous system that is dysregulated, it is even more so. With this book, you will not only learn to understand your child's behaviors, but will also learn sensory regulation skills to help your child--and your family as a whole--find some much-needed balance.
About the Author
---
Suzanne Mouton-Odum, PhD, is a licensed psychologist and expert in treating children with anxiety disorders, behavioral disorders, and sensory-based issues since 1995. She holds faculty positions at both Baylor College of Medicine, and the University of Houston. She is author of four other books, and director of Psychology Houston, PC in Houston, TX. Ruth Goldfinger Golomb, LCPC, is a senior clinician, supervisor, and codirector of the training program at the Behavior Therapy Center of Greater Washington, where she has worked for more than thirty years. She specializes in the treatment of anxiety disorders in children and adults, and has conducted numerous trainings, workshops, and seminars on these topics. Foreword writer Fred Penzel, PhD, is a licensed psychologist, and executive director of Western Suffolk Psychological Services. He specializes in the cognitive/behavioral treatment of obsessive-compulsive disorder (OCD, phobias, post-traumatic stress disorder (PTSD), and more.