You are here
Streets Of Paris, Streets Of Murder: The Complete Noir Of Manchette and Tardi Vol. 2 (The Complete Noir Stories of Manchette & Tardi) (Hardcover)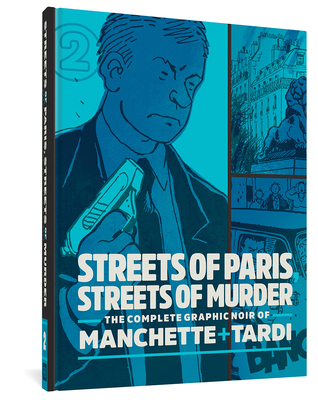 $29.99

On Our Shelves Now (Please wait for us to confirm and & contact you when it's ready)
Description
---
A globally acclaimed crime novelist and a pioneering cartoonist team up to bring readers two graphic novel noir thrillers, collected in an oversized format.
The second of two volumes presenting all four hardboiled graphic crime novels by Jean-Patrick Manchette and Tardi.
Like a Sniper Lining Up His Sho
t — Martin Terrier, killer-for-hire, needs just one more big job so that he can turn in his guns for good and return home to marry his childhood sweetheart. But soon, he's on the run — not only from the authorities and his treacherous ex-clients, but also from a crime syndicate seeking revenge for an earlier hit on one of theirs. In
Run Like Crazy, Run Like Hell
, philanthropist Michael Hartog hires Julie, just out of a psychiatric asylum, as a nanny. But he plans to fake the kidnapping of his son, Peter — and frame Julie for it. But Julie is no pushover, and soon, Julie and Peter are on the run, pursued by the police, and by Hartog's enforcer, the hulking contract killer, Thompson. 
About the Author
---
Tardi is a pioneering, internationally award-winning European cartoonist. His Adele Blanc-Sec series was adapted into a feature by Luc Besson, and the animated film April and the Extraordinary World was inspired by his cartooning. He lives in Paris with his wife, the singer Dominique Grange, and their cats.

The Marseilles-born Jean-Patrick Manchette (1942-1995) authored ten short, tough-minded, highly acclaimed crime novels, as well as a multitude of other books, screen- and teleplays, magazine columns, and translations of American crime and science fiction novels. A lifelong comics fan, he also wrote the hardboiled graphic novel Griffu for Jacques Tardi in 1978, and in the late 1980s, was selected to translate the French edition of Watchmen.
Praise For…
---
The stories in Streets of Paris are absorbing, enigmatic, counterintuitive, and sometimes offbeat. The images don't just echo the narrative, they propel it forward, convey mood, and expanded my notion of the types of stories that noir can tell.

— Kirkus

Immerse yourself in Manchette's cruel, violent world, and thank Tardi for bringing his brilliance to comics in his clear, unfussy style.
— Grovel

Tardi's noir depictions of 1950s Paris capture the city's landscape, eliciting the appropriate sense of foreboding.
— Publishers Weekly

What stays with you is Tardi's ability to conjure up Paris on the page. It's a vision of Parisian stone, rain, desire and death.
— Herald Scotland