You are here
Streets of Paris, Streets of Murder: The Complete Graphic Noir of Manchette & Tardi Vol. 1 (The Complete Noir Stories of Manchette & Tardi) (Hardcover)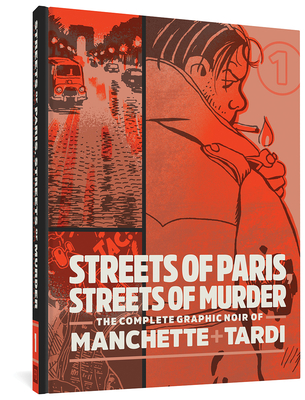 $29.99

On Our Shelves Now (Please wait for us to confirm and & contact you when it's ready)
Description
---
The first of two volumes presenting all of the world-renowned hardboiled crime graphic novels (one of which has never before been collected in English!) in a luxurious oversize format.
In the never-before-collected
Griffu
, the titular character is a legal advisor, not a private eye, but even he knows that when a sultry blonde appears in his office after hours, he shouldn't trust her — and she doesn't disappoint. Griffu is soon ensnared in a deadly web of sexual betrayal, real estate fraud, and murder. In
West Coast Blues
, a young sales executive goes to the aid of an accident victim, and finds himself sucked into a spiral of violence involving an exiled war criminal and two hired assassins. This volume also offers a bonus, 21-page unfinished story by Manchette and Tardi, as well as a single page introduction to another incomplete story, both appearing in English for the first time.
About the Author
---
Tardi is a pioneering, internationally award-winning European cartoonist. His Adele Blanc-Sec series was adapted into a feature by Luc Besson, and the animated film April and the Extraordinary World was inspired by his cartooning. He lives in Paris with his wife, the singer Dominique Grange, and their cats.

The Marseilles-born Jean-Patrick Manchette (1942-1995) authored ten short, tough-minded, highly acclaimed crime novels, as well as a multitude of other books, screen- and teleplays, magazine columns, and translations of American crime and science fiction novels. A lifelong comics fan, he also wrote the hardboiled graphic novel Griffu for Jacques Tardi in 1978, and in the late 1980s, was selected to translate the French edition of Watchmen.

Kim Thompson (1956-2013) was born in Copenhagen, Denmark. He was the co-publisher of Fantagraphics Books and a champion of alternative and global comics. He lived in Seattle, WA, with his wife, Lynn, and their dog.

Jenna Allen is a freelance translator based in Colorado.
Praise For…
---
The stories in Streets of Paris are absorbing, enigmatic, counterintuitive, and sometimes offbeat. The images don't just echo the narrative, they propel it forward, convey mood, and expanded my notion of the types of stories that noir can tell.

— Kirkus

Immerse yourself in Manchette's cruel, violent world, and thank Tardi for bringing his brilliance to comics in his clear, unfussy style.
— Grovel

Tardi's noir depictions of 1950s Paris capture the city's landscape, eliciting the appropriate sense of foreboding.
— Publishers Weekly

What stays with you is Tardi's ability to conjure up Paris on the page. It's a vision of Parisian stone, rain, desire and death.
— Herald Scotland