You are here
The Wisdom of Exercise Health: Feel Better Than Ever While Protecting Yourself Against A Wide Range of Illnesses. (Hardcover)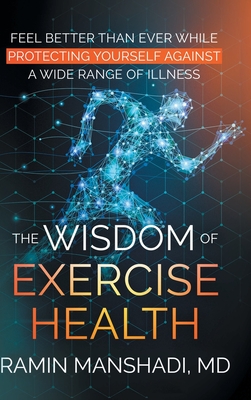 $27.95

Usually Ships To the Store in 1-5 Days
Description
---
DR. RAMIN MANSHADIis a practicing Sport Cardiologist, interventional Cardiologist, and the founder and president of Manshadi Heart Institute, inc. He is also Clinical Professor at UC Davis Department of Cardiovascular Medicine and Adjunct Professor at Stanford. He is the immediate past President of California chapter of American College of Cardiology. He is the team Cardiologist for the Sacramento Republic Professional soccer team. He is also the Founder and Co-Chair of Exercise Health and Sport Cardiology Committee for the CA Chapter of American College of Cardiology.Artfully blending science with personal experience, Dr. Manshadi provides numerous insights into the relationship between exercise and heart health.-AARON L. BAGGISH MD, F.A.C.C., F.A.C.S.M, Associate Professor of Medicine, Harvard Medical School, Director, Cardiovascular Performance Program Massachusetts General Hospital
The Wisdom of Exercise Health is a first class book for health care professionals and consumers. -KEVIN NAGLE, CHAIRMAN and CEO, Sac Soccer and Entertainment Holdings
Dr. Ramin Manshadi has once again articulated his love of the heart, of health, and of exercise. All in all, he has produced an important work that will be valuable to all who are interested in the what, why, and how of exercise for health.-EZRA A. AMSTERDAM, MD, Distinguished Professor, Cardiology, Associate Chief (academic affairs), Cardiology, University of California (Davis) School of Medicine
Dr. Manshadi explores scientific evidence and complements it with personal experience, making the book accessible to both health care professionals and exercise enthusiasts alike. Highly recommended to all those looking for a great summary and guide for using exercise as medicine. -KEGAN MONEGHETTI MBBS (HONS) FRACP FCSANZ PHD, Clinical Assistant Professor/ Sports Cardiology, Stanford UniversityAthletes and non-athletes alike will benefit from the practical, evidence-based advice offered here.
Dr. Manshadi brings decades of experience as a highly-regarded cardiologist and sports medicine physician to his work. -JOSEPH E. MARINE, MD, FACC, Professor of Medicine, Johns Hopkins University School of Medicine Our heart health is a key to living a long and productive life and Dr. Manshadi brings out his passion as he shows us how exercise plays the staring role.-JOHN RINEHART, President Business Operations, Sacramento Kings
Dr. Ramin Manshadi is a practicing Sport Cardiologist, interventional Cardiologist, and the founder and president of Manshadi Heart Institute, inc. He is also Clinical Professor at UC Davis Department of Cardiovascular Medicine and Adjunct Professor at Stanford. He is the immediate past President of California chapter of American College of Cardiology. He is the team Cardiologist for the Sacramento Republic Professional soccer team. He is also the Founder and Co-Chair of Exercise Health and Sport Cardiology Committee for the CA Chapter of American College of Cardiology.