You are here
Empowered Boundaries: Speaking Truth, Setting Boundaries, and Inspiring Social Change (Paperback)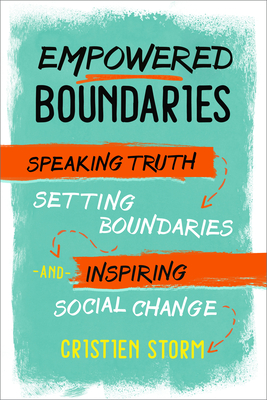 $15.95

Usually Ships To the Store in 1-5 Days
Description
---
Strengthen relationships, build more resilient communities, and develop a stronger emotional toolbox

Explaining power and privilege and the links between individual safety and community safety, Cristien Storm shows readers how to set emotional boundaries that build vibrant social movements and a better world for all. As there have been increases in violence against women, people of color, immigrants, and LGBTQI-identified people, there has been a corresponding demand for individual and community self-defense, boundary setting, and bystander trainings. Boundary setting can be used not just as a means for personal safety but as form of solidarity, resistance, and inspiration.

From saying no to a boss who always asks you to work late, to setting a boundary with a loved one, to navigating an uncomfortable situation at the bus stop, Cristien Storm offers a new approach to verbal boundary setting that is accessible for all bodies and identities. Practical in scope, the book includes tools, tips, and strategies from Storm's decades of experience leading boundary-setting workshops. Grounded in resiliency and trauma-informed theory, Storm pays particular attention to the experiences of women, people of color, immigrants, and LQBTQI-identified people, making this necessary reading for anyone looking to create healthier relationships and build stronger communities.
About the Author
---
CRISTIEN STORM is a writer, activist, politicized mental health therapist, and co-founder and former Executive Director of Home Alive, a self-defense organization started in the '90s as a response to the brutal murder of a Seattle musician. At Home Alive, Cristien developed and facilitated self-defense and boundary setting curricula rooted in traditional martial arts, social justice, and anti-oppression sensibilities. She was a featured panelist on a three-week European human rights speakers tour on gender and sexism in progressive and radical social movements entitled "Culture War." In addition to speaking at events, she has collaborated with local activists to develop and present self-defense and boundary setting trainings addressing sexism, transphobia, and heterosexism in social justice movements. Cristien is also a co-founder of If You Don't They Will, a Northwest collaboration that provides concrete and creative tools for countering white nationalism through a cultural lens.
Praise For…
---
"Storm emphasizes the nature of boundary setting, particularly among vulnerable groups such as people of color, immigrants, the LGBTQ community, and women, defining along the way topics of power and privilege and the connections between individual and community safety. She further examines the fear behind and avoidance of communicating one's needs and then offers methods for establishing boundaries ... with everyone from family members and bosses to strangers at the bus stop. Highly recommended."
—Library Journal (starred review)

"Not just theoretical but practical and useful for individuals and groups, the book provides exercises in boundary-setting skills and clarifies why individuals and groups have a right and a responsibility to set them.… Storm's book shows how essential setting boundaries is to standing against violence, creating safe spaces, and building stronger families, communities, and nations."
—Foreword

"Empowered Boundaries is a clear, practical guide for navigating the pressures we all face in interacting with friends, lovers, coworkers, and collaborators. Cristien Storm provides a grounded understanding of what boundaries are and how we can practice knowing what we want and don't want, asserting our needs and desires in relationships, and retaining connection in conflict. I would recommend this book to anyone struggling with conflict and frustration at work, in a group, or in their family."
—Dean Spade, associate professor of law at Seattle University School of Law, cofounder of the Sylvia Rivera Law Project, and author of Normal Life: Administrative Violence, Critical Trans Politics and the Limits of Law

"Empowered Boundaries illustrates the fact that our individual empowerment—and to some degree, our safety—is rooted in an ability to identify and clearly communicate our boundaries to other people. Cristien Storm has already changed many lives, and I believe that many more will find this to be a transformational read." —Amelia Bonow, author of Shout Your Abortion
 
"This hands-on guide to setting and upholding strong boundaries belongs on everyone's bookshelf. It brings together Cristien Storm's experience teaching women's self-defense, organizing against white nationalism, creating art, and supporting people in their personal healing to create an eminently readable resource to developing the skills and tools we need to be happy, whole, and safe. This is an inviting, practical, and essential book."
—Dan Berger, associate professor of comparative ethnic studies, coauthor with Toussaint Losier of Rethinking the American Prison Movement, and author of The Struggle Within: Prisons, Political Prisoners, and Mass Movements in the United States

"Storm outlines—quite comprehensively—what it means to have a dynamic self in relationship to others that is both honoring of ourselves and conscious of our coexistence with others. Empowered Boundaries is practical and soulful and an impressive contribution to many different lineages of thought—psychology, social movements, and social justice education."  
—Liz Goodwin, coauthor with Leticia Nieto, Beyond Inclusion, Beyond Empowerment: A Developmental Strategy to Liberate Everyone

"With a history steeped in self-defense, decades' worth of de-escalation skills, and a lifelong interest in the nefarious workings of white nationalists, Cristien Storm is the absolute perfect person to write this timely and important book."
—Inga Muscio, author of Cunt: A Declaration of Independence, Autobiography of a Blue-Eyed Devil: My Life and Times in a Racist Imperialist Society, and Rose: Love in Violent Times

"Cristien Storm's Empowered Boundaries couldn't come at a better time. In an era of bully culture, when decisions often get made by those who don't hesitate to take what they want, while the rest of us keep worrying whether pushing back might make it worse, Storm shows us how to say, 'Enough!' We are lucky to have such a ferocious fighter and such a loving listener in our midst and even luckier that she has shared her hard-won wisdom to help us train our minds, our hearts, and our fists to claim the space for lives worth living." 
—Shon Meckfessel, author of Nonviolence Ain't What It Used to Be: Unarmed Insurrection and the Rhetoric of Resistance