You are here
The Way of Rest: Finding The Courage to Hold Everything in Love (Paperback)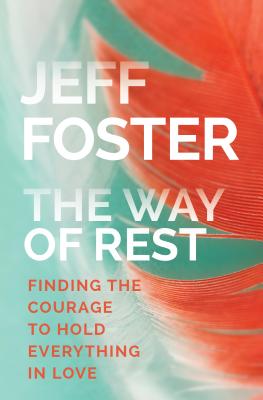 $18.95

Usually Ships To the Store in 1-5 Days
Description
---
The Way of Rest gathers nearly 200 of Jeff Foster's most inspiring essays, poems, and reflections on restoring and reviving ourselves when we feel exhausted or defeated. Drawing from his personal journey—including his own struggles with illness and depression—Jeff invites us to contemplate "the Way of Rest" and its potential to transform our experience of:

• Imperfection—how we are "gloriously flawed" yet complete exactly as we are

• Not knowing—how we come to trust in the greater intelligence of life

• Melancholy and loneliness—how we learn to release the healing energies of "exquisite sensitivity"

• Ordinary moments—recognizing and receiving "the closest thing of all"

• Discomfort and discontent—how our frustrations become an opening to deep peace

• Love—rediscovering who we are beyond our carefully constructed facades

• Silence—discovering the vibrancy of living by letting go of thoughts and concepts

"I hope the words in this book inspire, challenge, and encourage you. But most of all, I hope they help you remember that you are life, inseparable from the power that grows the flowers and gives birth to galaxies," writes Jeff Foster. The Way of Rest brings you his companionship and support whenever you need it most.
About the Author
---
Jeff Foster shares from his own awakened experience a way out of seeking fulfillment in the future and into the acceptance of "all this, here and now." He studied astrophysics at Cambridge University. Following a period of depression and physical illness, he embarked on an intensive spiritual search that came to an end with the discovery that life itself was what he had always been seeking.
Praise For…
---
"Foster describes himself as someone who once wanted to die, but who later fell in love with his imperfect life and set out to offer hope to others...Though not every entry will fit the tastes of all readers, there is plenty of insight here, and Foster succeeds in showing his audience his many ways for pushing through life's greatest challenges." —Publishers Weekly

"He (Jeff Foster) teaches readers to cultivate, rather than fear, their vulnerability, and to find peace with it." —Publishers Weekly

"The Way of Rest reads like a long poem to waking up in life as it is. For free spirits and those interested in 'the pathless path,' this book will be a great companion and friendly guide." —Sharon Salzberg, author of Lovingkindness

"Beautifully written and deeply insightful, The Way of Rest is a series of songs from the deep Heart, inviting us to be intimate with our experience—no matter how difficult." —John J. Prendergast, PhD, author of In Touch