You are here
Lacking Character (Paperback)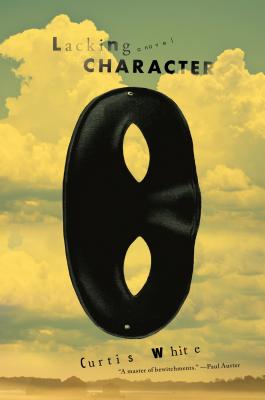 $18.69
Email or call for price.
Staff Reviews
---
Curtis White's return to fiction, after twenty years, is funnier than I thought books were alliowed in these very unfunny, unsilly days.
Welcome back Curtis!
— Brad
Description
---
Curtis White's long-awaited return to fiction reminds us that the founder of one of American literature's most vibrant and innovative movements is still the King of "transcendental buffoonery." 

The story begins when a masked man appears in the night at the door of the Marquis, proclaiming a matter of life and death: "I stand falsely accused of an atrocity!"

Except he's not, really; he's just trying to get the attention of the Marquis (a video game-playing burnout) to help him enroll in some community college vocational classes. And so the exchange gets badly botched, and our masked man is soon lost in a maddening America, encountering its absurdities at every turn, and cursing his cruel fate.

In a time with the crisis du jour, White asks us to remember what it's like to laugh--to be a little silly even--in order to reclaim what used to be fundamental to us: the strength to create our own worlds.
About the Author
---
Curtis White is a founder of The Fiction Collective 2. His latest book are We, Robots and The Science Delusion. His novels include Memories of My Father Watching TV and Monstrous Possibility. He lives in Port Townsend, Washington.
Praise For…
---
"A comic, absurd delight… White is a postmodern master, and in this wild satire he transforms the banal into magic."—
PUBLISHERS WEEKLY
"Endlessly inventive and endlessly imitative... [
Lacking Character
] bills itself equally as a bomb tossed into the bunker of literary convention; an algorithm endlessly replicating the capitalist apocalypse; a picaresque through which White's mad characters tilt at real giants disguised as miniature-golf windmills. The result is a profane wrestling match between high style and low comedy which owes as much to Rocky and Bullwinkle as it does to Gauguin's
Vision After the Sermon
."—
KIRKUS REVIEWS
"A blistering, madcap romp through the current zeitgeist."—
BOOKLIST
"Raw, rude and rowdy metaphysical slapstick, packed with buffoonery, frantic, at times wistful. 
Lacking Character 
is meant to amuse, piss off and, above all, distract from prevailing, pandemic lunacies."--
Rikki Ducornet
"
Lacking Character
 is marvelous. It is what writing must be (what is required) in this very moment of the Kali Yuga."--
Mark Leyner
"White supplies a running satire of American life, viewing the absurdities of the present through novelistic conventions from centuries past. He mixes the highfalutin language of lords and ladies with the cadences of screwball comedy and an American strip-mall landscape." -
POPMATTERS