You are here
The Poet, the Lion, Talking Pictures, El Farolito, a Wedding in St. Roch, the Big Box Store, the Warp in the Mirror, Spring, Midnights, Fire & All (Paperback)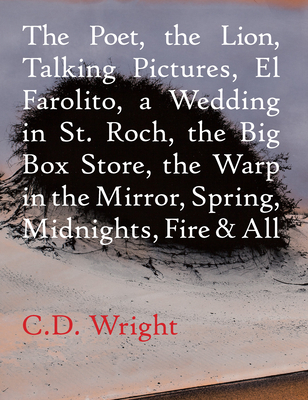 $18.00

On Our Shelves Now (Please wait for us to confirm and & contact you when it's ready)
Staff Reviews
---
Not quite poems. Not quite essays. C.D. Wright's final collection before her untimely death earlier this year is a fitting farewell for -- and arguably even introduction to -- a poet who defied formal identification. In the course of saluting the likes of Robert Creeley, Jean Valentine, and William Carlos Williams, and meanderingly reflecting on her time spent in Mexico and with those who have lost lifetimes in prison, Wright gives us a master-class in modern American poetry. Fans of Mary Ruefle's underground classic, Madness, Rack, and Honey, should take special note.
— From
Brad
Description
---
Wright shrinks back from nothing.--The Village Voice
Wright belongs to a school of exactly one.--The New York Times Book Review
Wright has found a way to wed fragments of an iconic America to a luminously strange idiom, eerie as a tin whistle.--The New Yorker
C.D. Wright is one of America's oddest, best, and most appealing poets.--Publishers Weekly
A companion to her astonishing collection of prose Cooling Time, C.D. Wright argues for poetry as a way of being and seeing, and calls it the one arena where I am not inclined to crank up the fog machine. Wright's passion for the genre is pure inspiration, and in her hands the answer to the question of poetry is poetry.
From In a Word:
I love the nouns of a time in a place, where a sack once was a poke and native skag was junk glass not junk and junk was just junk not smack and smack entailed eating with your mouth open, and an Egyptian one-eye was an egg, sunny side up, and a nation sack was a flannel amulet, worn only by women, to be touched only by women, especially around Memphis. Red sacks for love and green for money...
C.D. Wright's most recent volume, One With Others, was a National Book Award finalist. Among her many honors are the Griffin Poetry Prize and a MacArthur Fellowship. She teaches at Brown University and lives outside of Providence, Rhode Island.
About the Author
---
C.D. Wright: C.D. Wright has published over a dozen works of poetry and prose, including the recent volumes One With Others, which was nominated for a National Book Award, One Big Self: An Investigation, and Rising Falling Hovering. Among her many honors are the Robert Creeley Award, the Griffin Poetry Prize, and a MacArthur Fellowship. She teaches at Brown University and lives outside of Providence, Rhode Island.