You are here
Low-Fodmap: Low-Fodmap Recipes: Healthy Low-Fodmap Diet Plan & Recipes Cookbook to Get Ibs Relief and Improve Digestions, the Food (Paperback)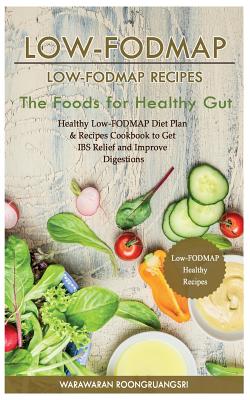 $6.89

Usually Ships To the Store in 1-5 Days
This book cannot be returned / is non-refundable.
Description
---
Low-FODMAPLow-FODMAP RecipesHealthy Low-FODMAP Diet Plan & Recipes Cookbook to Get IBS Relief and Improve DigestionsThe Foods for Healthy GutInside, you will get:
Our Low-FODMAP Dieting Approach and Dietary Triggers for your IBS Symptoms
Our Low-FODMAP Dieting Approach and What exactly are FODMAPs?
The Effects of FODMAPs on Your Gut
Our Low-FODMAP Dieting Plan
Our Guidelines for your Low-FODMAP Dieting Meal Ideas
In addition - Simple & Delicious & Gut-Friendly Low-FODMAP Dieting Recipes
Attempting to manage your digestive disorder can be tough, particularly if you are in the dark about your illness. For millions of people with IBS, they struggle with everyday tasks, typically when their IBS flares up, however, this is a common illness and nevertheless, so many people do not know how to cope with it.
If you suffer from Irritable Bowel Syndrome, you know that every meal you eat feels like a risk; keeping you on edge as you expect the grief and distress that has ultimately become a very painful part of your daily life.
Thousands of IBS sufferers do not realize just how vital their diet can be since little changes can actually make a huge difference. If you are eating the wrong food, it will make your condition worse, however by implementing simple changes and slight altering of foods, you can easily learn to manage your IBS.
All you need to do is to figure out what is causing the suffering and you are on your way to finally feeling better--for good--but it can be difficult to find the help you so desperately need.
While IBS and most other digestive disorders are not life-threatening, they are not pleasant either and could lead to serious medical conditions later on in life. Having pain in your stomach is just one issue when your IBS flares up, but by learning how you can deal with it, it can change your life completely.
This book takes a wide-ranging approach to understand how you can manage your IBS symptoms through easy dietary deviations, and it provides you with the needed information to help get you started on the Low-FODMAP Diet Plan
It will provide you with an understanding of just how much high FODMAP foods will affect your body, and will guide you through with what you will need to do in clear and simple steps.
By following all of the guidelines contained in this book, you will bring harmony to your digestion & improve your health and your vitality
Low-FODMAP, IBS, Low-FODMAP Recipes, Low-FODMAP Cookbook, IBS Cookbook, Low-FODMAP Diet, IBS free, Low FODMAP, Low FODMAP Recipes, Low FODMAP Cookbook, Low FODMAP Diet, Irritable Bowel Syndrome, IBS Recipes, IBS cure, IBS cookbook, IBS treatment, IBS relief, IBS diet, Starch free diet, low carb diet, low carb, gluten free