You are here
The Stars Are Legion (Paperback)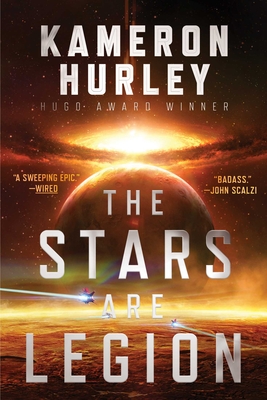 $17.99

On Our Shelves Now (Please wait for us to confirm and & contact you when it's ready)
Staff Reviews
---
On the dedication page is written, simply and starkly, 'TO ALL THE BRUTAL WOMEN.' And indeed, the two things most abundant in Kameron Hurley's non-stop space opera are women and brutality. In this story there are only women, and they are accustomed to an unforgiving life where survival is never a guarantee and friendship is rare and hard won. Hurley subverts the Hero's Journey in surprising and exciting ways, all set against the backdrop of an incredibly imagined, impossible region of space. Highly recommended for readers who don't need men in their fiction and also have strong stomachs.
— Adelaide
Description
---
"[A] thought-provoking space opera." —Kirkus Reviews
"One of the most unusual and powerfully disturbing space operas we're likely to see this year." —Chicago Tribune

Set within a system of decaying world-ships travelling through deep space, this breakout novel of epic science fiction follows a pair of sisters who must wrest control of their war-torn legion of worlds—and may have to destroy everything they know in order to survive.

Somewhere on the outer rim of the universe, a mass of decaying world-ships known as the Legion is traveling in the seams between the stars. Here in the darkness, a war for control of the Legion has been waged for generations, with no clear resolution.

Zan wakes with no memory, prisoner of a people who say there are her family. She is told she is their salvation, the only person capable of boarding the Mokshi, a world-ship with the power to leave the Legion. But Zan's new family is not the only one desperate to gain control of the prized ship. Zan finds that she must choose sides in a genocidal campaign that will take her from the edges of the Legion's gravity well to the very belly of the world.

In the tradition of Iain M. Banks's Culture novels and Roger Zelazny's Chronicles of Amber, Kameron Hurley has created an epic and thrilling tale about tragic love, revenge, and war as imagined by one of our most celebrated new writers.
About the Author
---
Kameron Hurley is the acclaimed author of the novels God's War, The Mirror Empire, and The Light Brigade. Hurley has been awarded two Hugo Awards, the Kitschies Award for Best Debut Novel, and has also been a finalist for the Nebula Award, the Arthur C. Clarke Award, the British Science Fiction and Fantasy Award, and the Locus Award. Visit the author online at KameronHurley.com or on Twitter at @KameronHurley.
Praise For…
---
"In a universe where the word for spaceship is the same as for world, two women struggle to escape a perpetual war in this dystopic yet hopeful space opera. This gripping book is both hard to read and easy to appreciate."
— - STARRED REVIEW,

"One word will do it: Badass."
— -- John Scalzi,

"With mind-bending betrayals, heart-wrenching loves, souls and bodies driven to frenetic motion by war and hope, THE STARS ARE LEGION is a profoundly moving tale of self-discovery and self-construction in a world as wondrously layered as its unforge able protagonist."
— — Ken Liu

"So, this is chock full of action and fights and battles and betrayals and political intrigue. And those world-ships? They are all biological. Nothing in this fleet is built, it's all birthed, and there are tentacles and blood and mucous and body fluids everywhere. It's kind of awesome fun. You should totally read it."
— -- Ann Leckie,

"A sweeping epic about a squad of starships—one that just happens to feature a cast of all female characters."
— -- Charlie Jane Anders,

"Grabs you like a gravity well and won't let go. This is a dark, haunting, recursive tale, unlike any other space opera with which you're familiar. Discovering Kameron Hurley's work is like finding a whole new galaxy, and she is the star at its center."
— — Chuck Wendig,

"Kameron Hurley has done it: She's written a true space opera with no men in it. In a genre filled with generic portrayals of space, Hurley's take is one-of-a-kind: equal parts love story and revenge tale, mixed with adventure science fiction and body horror."
— -- The Washington Post

"One of the most unusual and powerfully disturbing space operas we're likely to see this year."
— -- Gary K. Wolfe,

"The Stars Are Legion is like a magnificent storm tearing through the genre."
— -- Popular Mechanics

"Thought provoking space opera."
— -- Kirkus Reviews

"Hurley takes the reader on an exciting and at times breathtaking journey through the world of her creation. This novel is highly recommended for anyone looking for an inventive and engaging science fiction experience."
— -- Booklist

"A mesmerizing read."
— -- Adrian Lang,

"A visceral, optimistic mash-up of new, weird, and grimdark science fiction that is a cracking good read. Hurley has really leveled up."
— — MaryJo Schimelpfenig

"The Stars Are Legion is poised to be Kameron Hurley's mainstream breakthrough, but apparently no one told her. It's unlike any space opera you've ever read—a bizarro blend of New Weird adventure, political thriller, and body horror; and an intimate examination of two deeply damaged women. It's as visceral and violently angry as anything she's ever written, a ragged scream from the heart of a broken world—but one not past mending, if there are people brave enough to build a better one."
— — Joel Cunnigham