You are here
to make monsters out of girls (Hardcover)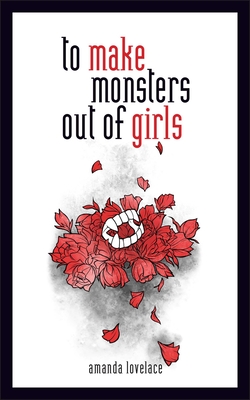 $14.99

Usually Ships To the Store in 1-5 Days
Description
---
"What happens when the man of your dreams turns out to be a nightmare with sharp teeth and claws?"

Winner of the 2016 Goodreads Choice Award for Best Poetry, amanda lovelace presents her new illustrated duology, "things that h(a)unt." In this first installment, to make monsters out of girls, lovelace explores the memory of being in an abusive relationship. She poses the eternal question: Can you heal once you've been marked by a monster, or will the sun always sting?
About the Author
---
Amanda Lovelace is a bestselling poet who rose to fame through her poetry posted to Tumblr and Instagram. Her works have a feminist character, bringing new versions of traditional tales. They have succinct and direct verses, although reflective.
Praise For…
---
"With this hauntingly poignant and provocative collection, amanda lovelace has once again cemented her place as one of the top poets of our time. Shaking off old memories of heartbreak and love gone wrong, lovelace is showing young women how to arm themselves against the pain of past relationships. Never have I felt a more unshakable sense of warmth and empowerment than while reading this book. monsters has burrowed under my skin and made its home deep within my soul. This is a collection that will not be forgotten." (summer webb @buttermybooks)

"to make monsters out of girls by amanda lovelace is an emotional triumph. this inspiring collection winds through the roots of an abusive relationship and then leads the reader from the shadows, all the way back out into the sun." (Trista Mateer, author of The Dogs I Have Kissed and Honeybee)

"Uncompromising and unforgettable. To Make Monsters Out of Girls is a bold, poignant, and sensitively crafted collection exploring the consequences of past trauma. Amanda Lovelace's balance of a sharp, hard reality paired with her fearless optimism and unwavering belief in the resilience and strength of herself and all women has me returning to her work again and again and again. Her poems are a powerful testament to self-recovery." (Courtney Summers, author of Sadie)

"A triumphed survivor, Amanda Lovelace takes us through her journey of heartache and once again saving herself in to make monsters out of girls. Lovelace weaved her words gently while impacting my very being with her power. Showing us that yes, we can recognize the toxins and still move forward with all our strength. You will not regret picking up this collection." (Gretchen Gomez, author of love, and you)