You are here
Beating Heart Baby (Hardcover)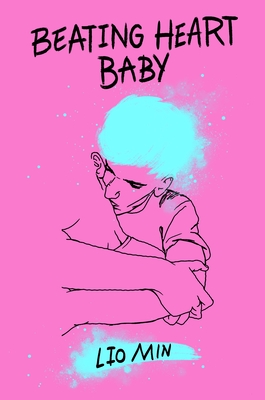 $18.99

Coming Soon - Available for Pre-Order Now
Description
---
Lio Min's Beating Heart Baby is a tender best friends to enemies to lovers story with AAPI leads, celebrating first love, second chances, indie rock, and transitions of all kinds

"Blistering, deeply emo, and shimmering with the messiness of intimacy, Beating Heart Baby is a dizzying, occasionally infuriating, gleefully sexy, and utterly heartfelt exploration of identity, culture, and finding home within your art and in yourself." —Mary H. K. Choi, author of Yolk

Santi has only had his heart broken one time, and it was all his fault. When he accidentally leaked his internet best friend Memo's song, and it became an overnight hit, Memo disappeared—leaving their song's cult fame, and Santi, behind.

Three years later, Santi arrives in Los Angeles with a mission: get over the ghost of Memo. Thankfully, his new school and its wildly-talented Sunshower marching band welcome him with open arms. All except for his section leader, the prickly, proud, musical prodigy Suwa. But when Santi realizes Suwa is trans, then Suwa realizes Santi takes his identity in stride, both boys begin to let their guards down. Santi learns Suwa's surliness masks a painful, still raw history of his own, and as they open up to each other, their friendship quickly takes on the red-hot blush of a mutual crush.

Just as Santi is feeling settled in this new life, with a growing found family and a head-over-heels relationship with Suwa, he begins to put together the pieces of an impossible truth—that he knows both more and less of Suwa's story than he's been told. Their fragile fresh start threatens to rip apart at the seams again when Suwa is offered the chance to step into the spotlight he's owed but has always denied himself. Now, Santi and Suwa must finally reckon with their dreams, their pasts—and their futures, together or apart.
About the Author
---
Lio Min has listened to, played and performed, and written about music for most of their life. Their debut novel Beating Heart Baby is about boys, bands, and Los Angeles. They've profiled and interviewed acts including Japanese Breakfast, Rina Sawayama, MUNA, Caroline Polachek, Christine and the Queens, Raveena, Tei Shi, Speedy Ortiz, and Mitski.
Praise For…
---
"Blistering, deeply emo, and shimmering with the messiness of intimacy, Beating Heart Baby is a dizzying, occasionally infuriating, gleefully sexy, and utterly heartfelt exploration of identity, culture, and finding home within your art and in yourself. Brimming with music, profoundly specific internet, and the magic of cooked food with chosen family, Lio Min's debut is as much a salve as it is nourishment." —Mary H. K. Choi, author of Yolk

"A lyrical, rhythmic, and promising debut, this queer romance is a hit." —Kirkus Reviews, starred review

"A stunning heartbreak of a novel that will mean so much to so many. I couldn't put it down—following the always tender and often romantic journeys of these beautiful boys. A story about how love can shape you and open up the entire world. Lio Min is a superstar to watch." —Maurene Goo, author of Somewhere Only We Know

"A beautiful story about finding family, messy first loves, and the power of music. Beating Heart Baby will break your heart in the best way." —Emiko Jean, author of Tokyo Ever After

"You know that feeling, when you hear your favorite song for the first time? Lio Min has captured it in electrifying prose. Beating Heart Baby reached deep inside me and healed wounds I always assumed I'd be carrying forever." —Adib Khorram, award-winning author of Darius the Great Is Not Okay

"Beating Heart Baby creates the eclectic, stylish world of every teen weirdo's dreams. Readers will connect to the struggle and yearning of young queer love while finding warmth and acceptance within its diverse and compassionate cast." —Jen Wang, author of The Prince and the Dressmaker

"Beating Heart Baby combines an anime-addled queer coming-of-age with a luxurious, sensual love story. You won't know whether to swoon or seethe with jealousy that you weren't this cool in high school." —Meredith Russo, author of If I Was Your Girl

"An altogether wildly moving story of finding yourself while chasing down dreams, Beating Heart Baby reads like the best kind of love song and leaves you wanting to hit repeat, with chapter after chapter positively humming in your head. And the beating heart of this beautiful novel? A story of love and forgiveness like no other." —Eric Smith, author of Don't Read the Comments

"A peek into the white-hot moment of a music star's birth, written by a seasoned pro who knows this world down to the most intimate gesture. You'll fall hard for this absolute nightmare and his devoted sweaterboy. What a vivid and vital gift to queer teens everywhere." —Peyton Thomas, author of Both Sides Now