You are here
99 Erics: a Kat Cataclysm faux novel (Paperback)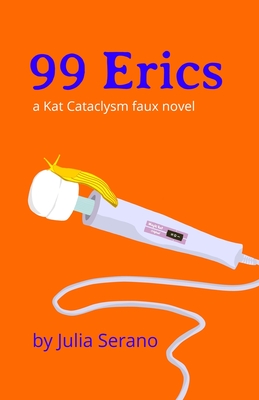 $16.99

Usually Ships To the Store in 1-5 Days
This book cannot be returned / is non-refundable.
Description
---
Kat Cataclysm is an ethically non-monogamous bisexual woman and absurdist short fiction writer who embarks upon writing a book called 99 Erics, chronicling her experiences dating ninety-nine different people named Eric. The book is largely comprised of humorous anecdotes from Kat's dates with various Erics; satirical takes on relationships, sexual conventions, language, the writing process, book publishing, online media, and tech culture; and Kat's smart yet silly digressions on a variety of topics, including the distorted nature of memories, hipsters, sex toys, sabermetrics, YA dystopian fiction, trendy restaurants, Freudian slips, banana slug mating practices, lucid dreaming, agnosticism, the internet of things, and Prince lyrics, to name but a few. These more fanciful passages are seamlessly interwoven with more serious and mundane matters, such as navigating the world as a woman and sexual minority, being an outcast who doesn't really fit in, struggling to make ends meet, and reconciling one's past with the present. The end result is a fun and fast read that tackles meaty subjects and contemporary issues along the way.