You are here
My Love Is a Beast: Confessions (Hardcover)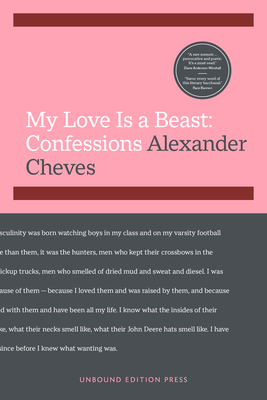 $27.95

On Our Shelves Now (Please wait for us to confirm and & contact you when it's ready)
This book cannot be returned / is non-refundable.
Description
---
Literary Nonfiction.
How does the devout son of evangelical Christians, growing up dedicated to mission work in Africa, become one of America's leading sex columnists and a self-avowed slut committed to kink as his new religion? Across his debut book, MY LOVE IS A BEAST: CONFESSIONS, Alexander Cheves details his path from piousness to faithlessness, and his awakening to the saving power of hedonism. He tells intimate stories of what he sees as the sacred grace of pleasure as he embraces his life as a sex writer, worker, and activist. In stories richly lyrical, boldly erotic, and fearlessly honest, Cheves takes readers on a tour through Savannah, Atlanta, San Francisco, Los Angeles, and New York City. Along the way, he explores the darker corners of Queer culture and his own life, highlighting experiences most will have never considered. His rise to national popularity among LGBTQ+ writers gets balanced by his own struggles with and recovery from substance use--and his public embrace of kink and fetish as a belief system, way of life, and identity. In the end, Cheves writes with complete, even shocking, transparency and authenticity in the service of shattering sexual shame. Graphic and at times controversial, this book is sure to become a watershed moment among erotic memoirs.