You are here
House of Day, House of Night (Writings From An Unbound Europe) (Paperback)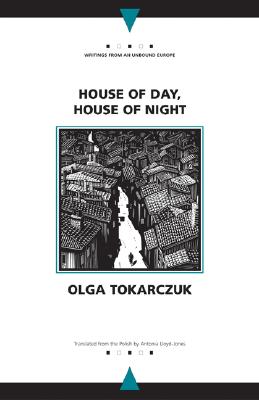 $26.93
Email or call for price.
Description
---
The English translation of the prize-winning international bestseller
Winner of the Gunter Grass Prize

Nowa Ruda is a small town in Silesia, an area that has been a part of Poland, Germany, and the former Czechoslovakia in the past. When the narrator moves into the area, she and discovers everyone-and everything-has its own story. With the help of Marta, her enigmatic neighbor, the narrator accumulates these stories, tracing the history of Nowa Ruda from the founding of the town to the lives of its saints, from the caller who wins the radio quiz every day to the tale of the man who causes international tension when he dies on the border, one leg on the Polish side, the other on the Czech side. Each of the stories represents a brick and they interlock to reveal the immense monument that is the town. What emerges is the message that the history of any place--no matter how humble--is limitless, that by describing or digging at the roots of a life, a house, or a neighborhood, one can see all the connections, not only with one's self and one's dreams but also with all of the universe.

Richly imagined, weaving in anecdote with recipes and gossip, Tokarczuk's novel is an epic of a small place. Since its original publication in 1998 it has remained a bestseller in Poland. House of Day, House of Night is the English-language debut of one of Europe's best young writers.
About the Author
---
Olga Tokarczuk was born in 1962. She won the 2018 Nobel Prize in Literature. She studied psychology at the University of Warsaw and debuted with the poetry volume Cities in Mirrors. She is also the author of a prize-winning play, four novels and two books of short stories, and has received two Nike Reader's Prizes and the Berlin Bridge Literary Prize. She currently runs the RUTA publishing house and lives in the countryside near Nowa Ruda in southwestern Poland.

Antonia Lloyd-Jones has trnaslated several works including Jarosław Lwaszkiewicz's The Birch Grove and Other Stories and Paweł Huelle's Moving House and Who Was David Weiser?
Praise For…
---
"[A] delight to read--wonderfully inventive and by turns comic, tragic and wise. Tokarczuk's prose is simple and unadorned. She tells her stories with a natural fluency that easily accommodates the hopes, drudgery and absurdities of the world she is describing. Real lives mingle with the imagined, dreams with day, past with present in an entirely plausible way." --The Observer


"A great gift in the universal language of great art."

—Tomasz Tabako, 2B: A Journal of Ideas