You are here
Futures Held Hostage: Confronting US Hybrid Wars and Sanctions in Venezuela (Red Letter) (Paperback)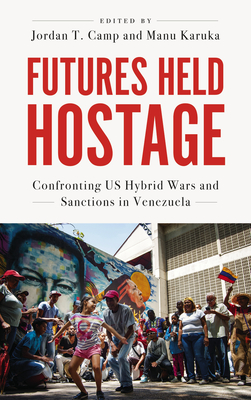 Description
---
The attempted coup in January 2019 made headlines, but it was merely a continuation of the US government's policy of targeting Venezuela through non-traditional means. Rather than deploying military force, it has engaged in a 'hybrid war', using state and non-state actors to exert political, economic and social pressure across various spheres of everyday life. This has deliberately targeted the poorest and most vulnerable citizens.

Futures Held Hostage explores the features of this hybrid war being waged against Venezuela, showing that the victims are being 'held hostage' with no foreseeable resolution. An intervention into popular and political debate, the book consists of essays by leading scholars, journalists and activists. The contributors expose the ways that the Venezuelan people have experienced the effects of sanctions, rising mortality and decreasing life expectancy due to impaired distribution of food, medicine, housing and healthcare.

The authors demonstrate that this punishment is a response to Venezuela's attempts to assert its independence from international finance capital and construct a future at odds with global neoliberal regimes. A mass, popular movement against US policy will be a vital component of a more just and equitable future in Venezuela, the United States, and the world at large.
About the Author
---
Jordan T. Camp is Director of Research at the People's Forum, Visiting Scholar in the Center for Place, Culture and Politics at the Graduate Center of the City University of New York, and Co-Director of the Racial Capitalism Working Group in the Center for the Study of Social Difference at Columbia University. He is the author of Incarcerating the Crisis: Freedom Struggles and the Rise of the Neoliberal State (University of California Press, 2016); co-editor (with Christina Heatherton) of Policing the Planet: Why the Policing Crisis Led to Black Lives Matter (Verso, 2016), co-editor (with Laura Pulido) of Clyde Woods' posthumously published, Development Drowned and Reborn: The Blues and Bourbon Restorations in Post-Katrina New Orleans (University of Georgia Press, 2017). He is currently editing and writing, As Goes the South: The Life and Lessons of Roz Pelles, co-editing (with Chris Caruso) David Harvey's The Anti-Capitalist Chronicles (Pluto, 2020), and writing The Long Vendetta: Twentieth Counterinsurgency and the Survival of Capitalism. 

Manu Karuka is an Assistant Professor of American Studies at Barnard College, and Co-Director of the Racial Capitalism Working Group in the Center for the Study of Social Different at Columbia University. He is the author of Empire's Tracks: Indigenous Nations, Chinese Workers, and the Transcontinental Railroad (University of California Press, 2019), and co-editor of The Sun Never Sets: South Asian Migrants in an Age of US Power (NYU Press, 2013). He is currently writing Against Imperialism: Breaking the War-Finance Nexus (University of California Press).