You are here
Sudden Death: A Novel (Paperback)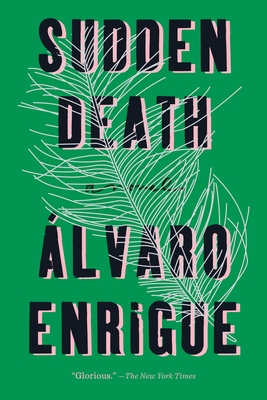 $17.00

On Our Shelves Now (Please wait for us to confirm and & contact you when it's ready)
Staff Reviews
---
We are in the midst of a new golden age of Mexican literature, and Sudden Death has opened up even more audacious paths for this most cosmopolitan storytelling. To retell the plot does the novel very little service --  which isn't to say it is plotless or even particuraly difficult to follow. Rather, it is tightly wound (not unlike the balls used in the epic duel of a tennis match that functions simultaneously as the novel's centerpiece and frame) and bounds expertly between centuries from Old World to New.
Sudden Death is, at its core, a very angry book -- specifically at the successes of the world's colonizers -- but it is an anger born of play and the centure of comedy. The bad guy may always win in the end, Enrigue sees resigned to say, but that doesn't mean we can't enjoy the losers' little victories along the way.
— Brad
February 2016 Indie Next List
---
"Sudden Death is one of the most audacious, smart, and original books you will read this year. It is a literary triptych -- part history lesson, part tennis match, and part hypermodern adventure. Daring and visceral with a cast that includes Thomas Cromwell, Mary Magdalene, Aztec emperors and more, the limits of the novel in Enrigue's hands seem boundless. No other author is taking chances like this with such gratifying results."
— Mark Haber, Brazos Bookstore, Houston, TX
Description
---
"Splendid" —New York Times
"Mind-bending." —Wall Street Journal
"Brilliantly original. The best new novel I've read this year." —Salman Rushdie

A daring, kaleidoscopic novel about the clash of empires and ideas, told through a tennis match in the sixteenth century between the radical Italian artist Caravaggio and the Spanish poet Francisco de Quevedo, played with a ball made from the hair of the beheaded Anne Boleyn.

The poet and the artist battle it out in Rome before a crowd that includes Galileo, a Mary Magdalene, and a generation of popes who would throw the world into flames. In England, Thomas Cromwell and Henry VIII execute Anne Boleyn, and her crafty executioner transforms her legendary locks into those most-sought-after tennis balls. Across the ocean in Mexico, the last Aztec emperors play their own games, as the conquistador Hernán Cortés and his Mayan translator and lover, La Malinche, scheme and conquer, fight and f**k, not knowing that their domestic comedy will change the course of history. In a remote Mexican colony a bishop reads Thomas More's Utopia and thinks that it's a manual instead of a parody. And in today's New York City, a man searches for answers to impossible questions, for a book that is both an archive and an oracle.

Álvaro Enrigue's mind-bending story features assassinations and executions, hallucinogenic mushrooms, bawdy criminals, carnal liaisons and papal schemes, artistic and religious revolutions, love and war. A blazingly original voice and a postmodern visionary, Enrigue tells the grand adventure of the dawn of the modern era, breaking down traditions and upending expectations, in this bold, powerful gut-punch of a novel.

Game, set, match.

"Sudden Death is the best kind of puzzle, its elements so esoteric and wildly funny that readers will race through the book, wondering how Álvaro Enrigue will be able to pull a novel out of such an astonishing ball of string.  But Enrigue absolutely does; and with brilliance and clarity and emotional warmth all the more powerful for its surreptitiousness." 
—Lauren Groff, New York Times-bestselling author of Fates and Furies

"Engrossing... rich with Latin and European history." —The New Yorker

"[A] bawdy, often profane, sprawling, ambitious book that is as engaging as it is challenging." —Vogue

About the Author
---
Álvaro Enrigue was a Cullman Center Fellow and a Fellow at the Princeton University Program in Latin American Studies. He has taught at New York University, Princeton University, the University of Maryland, and Columbia University. His work has appeared in The New York Times, The Believer, The White Review, n+1, London Review of Books, El País, among others. This novel—his first translated into English—was awarded the prestigious Herralde Prize in Spain, the Elena Poniatowska International Novel Award in Mexico, and the Barcelona Prize for Fiction, and has been translated into many languages. Enrigue was born in Mexico and lives in New York City.

Natasha Wimmer's translations include The Savage Detectives and 2666 by Roberto Bolaño. She lives in New York City.
Praise For…
---
"Brainspinning." —Marlon James, Booker Prize-winning author of A Brief History of Seven Killings

"[A] novel without boundaries." —O, the Oprah Magazine

"Brilliantly original. The best new novel I've read this year." —Salman Rushdie

"[A] bawdy, often profane, sprawling, ambitious book that is as engaging as it is challenging." —Vogue

"Sudden Death is the best kind of puzzle, its elements so esoteric and wildly funny that readers will race through the book, wondering how Álvaro Enrigue will be able to pull a novel out of such an astonishing ball of string. But Enrigue absolutely does; and with brilliance and clarity and emotional warmth all the more powerful for its surreptitiousness."  —Lauren Groff, New York Times-bestselling author of Fates and Furies

"Mind-bending." —Wall Street Journal

"Engrossing... rich with history." —The New Yorker

"Writing with his customary intensity about his favorite sport, David Foster Wallace described tennis as 'chess on the run, beautiful and infinitely dense.' In his droll and erudite new novel, Sudden Death, Álvaro Enrigue provides his own distinct take on that chess-on-the-run notion and elevates it to an even more exalted level... [G]lorious... [H]is approach has both great entertainment value and intellectual appeal... Splendid." —Larry Rohter, New York Times

"Here is a novel that does full justice to the phrase 'cutting edge': In the manner of its protagonist, Caravaggio, Sudden Death is at once formally audacious and piercingly  humane." – Garth Risk Hallberg, New York Times bestselling author of City on Fire

"What makes the novel so enthralling is the intimate humanity of its characters. Enrigue demystifies them using a rich, baroque naturalism, cut by flippancy and goofy jokes (all hail to translator Natasha Wimmer for relaxed perfection in every key)… Sudden Death resembles the arts it celebrates: selective, dramatized, all dark gaps and sensual glare, bending naturalism to some post-God purpose, like Caravaggio. Building a luxuriant picture that only ignites into meaning when angled a certain way, like the feather artists. Throughout this mercurial novel, playing fast and loose with facts lets richer truths about the world emerge." —The Washington Post

"[A] novel of revolution in the spatial and historical sense of the word.... And structurally, Sudden Death isn't normative: a short screenplay and the author's emails are interspersed with short entries from obscure sporting dictionaries and excerpts from humanist classics. Chapters are short, enticing and written with a casual erudition that whispers to readers that, no matter the apparent surprises of the game, the author is in full control. Enrigue muses on the nature of the novel and his intentions in writing Sudden Death as easily as he holds a candle to the obscure maneuvers of the powerful. And he has a poet's ear, beautifully attended to by Natasha Wimmer's translation.... Sudden Death shows us that games are never merely games, because no game is played without consequences." —Los Angeles Times

"By turns intellectual and earthy, Enrigue's fictionalized account of Renaissance Europe and 16th century Mexico is the best kind of history lesson: erudite without being stuffy, an entertaining work that incorporates the Counter-Reformation, the Spanish conquest of the Aztec empire, art history and even a grammar lesson on Spanish diminutives into one mesmerizing narrative." —San Francisco Chronicle

"At once erudite and phantasmagoric." —The Millions

"[A]n exhilarating, funny, and surprisingly sexy read. Enrigue turns historical figures into real, flesh-and-blood people." —Buzzfeed

"Inventive... The book bounces back and forth between the old world and the new, the past and the present, conquistadors and Mayans, and much more as it reimagines history as a sometimes brutal and sometimes hilarious tennis match." —Thrillist

"This novel by one of Mexico's most innovative authors is a triumph of narrative skill, humour and lightly worn erudition." —The Financial Times

"Like the tennis court, fiction can be both a constrained and a constraining space… Enrigue teasingly suggests that the only debt a novel has is to its own internal coherence… In less able hands, this could all feel a bit labored, but in Sudden Death the postmodernist flourishes are never gimmicks. They are suited to their subject, reflecting and revealing the games and tricks of empires and of the histories they construct to justify themselves." —Bookforum

"Sudden Death is very, very funny and it is unfailingly brilliant and I have no idea how to describe it--another one of its rare virtues. I might say it is about tennis, or history, or art, or absurdity, but more accurate would be to say, simply, that it's essential reading."
—Rivka Galchen

"A story of history plunging forward and the world at a defining moment. Rackets are raised; the court looms large. Finally a tale that truly defies the bounds of the novel." 
—Enrique Vila-Matas

"Sudden Death is a unique object – tropical and transatlantic; hypermodern and antiquarian—a specialized literary instrument designed to resist the deadly certainties of universal history. But don't let that confuse you. Sure, his method may be all playfulness and multiplicity, but Álvaro Enrigue is the most disabused novelist I know." 
—Adam Thirlwell, author of Lurid & Cute

"A full-fledged writer." 
—Mario Vargas Llosa

"[Enrigue] belongs to many literary traditions at once and shows a great mastery of them all. . . . His novel belongs to Max Planck's quantum universe rather than the relativistic universe of Albert Einstein: a world of coexisting fields in constant interaction and whose particles are created or destroyed in the same act." 
—Carlos Fuentes

"In this wildly surreal novel — translated by Natasha Wimmer, who also translated Roberto Bolaño — the Mexican-born author imagines a 16th century tennis match between the Italian painter Caravaggio and the Spanish poet Francisco de Quevedo played with a ball made from the hair of the beheaded Anne Boleyn. And then things really get strange." —Newsday

"A rare example of an artful, comedic, deeply literary novel with the potential to become a fixture on bookshelves everywhere." —Flavorwire 

"Beautifully rendered… Sudden Death is one of the most engaging, audacious, and flat-out fun works of fiction I've read in a while." —Vice.com
 
"Exuberantly intellectual… Enrigue transmutes the familiar, and shifts our awareness. Sudden Death is an original, transformative work." —BBC.com
 
 "The latest novel from Álvaro Enrigue defies any kind of easy description… If you like your fiction both gripping and impossible to categorize, this may be your new obsession." —Vol. 1 Brooklyn
 
 "This rich novel will make the world come alive for you in completely new ways." —Bustle 

"Álvaro Enrigue's Sudden Death reads more like an intoxicating adventure than a novel — set around the world in the 16th century, Sudden Death presents familiar players (Galileo, Caravaggio, Anne Boleyn, Cortés, and more) like we've never seen them before. Spectacularly original, Enrigue's daring novel challenges everything readers think they know about European colonialism, history, art, and modernity." —Buzzfeed, Most Exciting Books Coming in 2016
 
"Joyfully disorienting… Enrigue's ambitious tale bends in on itself and will reward readers who won't mind feeling like wanderers lost in the increasingly erudite corridors of Borges' library of Babel." —Booklist 

"Sudden Death reads like a playful novel written by a master with a wicked serve… Not only does the reader get to brawl, drink, and love with Caravaggio, but Enrigue slides effortlessly between the tennis match and discourses that turn into philosophical art history… The effect of these quick chapters is dazzling without being inaccessible." —Kirkus

"Enrigue may be the best Mexican writer at work today. This novel is genius." —Scott Esposito

"[Enrigue] keeps his reader spell-bound in these three-hundred pages, all while delivering a hair-raising lesson in history and literature." —Le Monde

"The speculative weight of this novel is brilliant, intriguing. No less brilliant is its unreliable narration." —El País