You are here
The Telling of Our Truths (Paperback)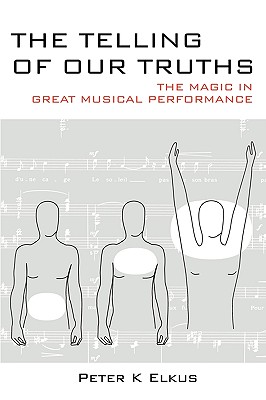 $17.99

Usually Ships To the Store in 1-5 Days
This book cannot be returned / is non-refundable.
Description
---
The Telling of Our Truths has been written in response to critics' and professionals' complaint of performers who sing or play well - yet say little with their music. In ...Truths, Peter Elkus both dissects and formulates the elements of Great Musical Performance. With a passion for artistic expression, he psychologically and practically demonstrates how education, which starts at home, can support or impede freedom in expression. He spells out the 'hows and whys' of positive educational development in creativity and expression. To establish a common base, he re-defines Freud's theory on Narcissism, puts definition to the terms Ego and Self, presents clarity to the elusive description of Art and explores the relationship of artistry to ego. The book provides stories and examples from the music business, the classroom, and from his very specific philosophy of music. It presents different vocal technique sourced in this different approach. The book is broken into three parts: Part One - Educating Creativity. Why we perform; how education helps or hinders us, the resultant psychological implications, and Narcissism. Part Two - Reprogramming, to regain Self and artistry; the privilege, method and the balance in teaching. Part Three - A different technique for a different approach; music, musicianship, musicality and interpretation; Ego and career; Epilogue and an Appendix that includes important class examples. The Telling of Our Truths is intended to benefit performer, student, educator, music therapist and those interested in a profound understanding of creativity and Self expression. American composer/poet - Gerald Ginsburg refers to The Telling of Our Truths as . . . "this masterpiece" . . . "Overwhelming in its impact " . . . "This book is unique " Dr. Charles Kaufman - former President, Mannes College of Music, New York . . . "You come through a lot of doors where you are not expected . . ." "Life for artists and for singers in particular is so damned difficult . . . your book will surely be a firm guide and support for many-- a door opener . . ." Mut Asheru - Editor In Chief - Unsigned, The Magazine "Love the book..." "I find myself having to re-read things several times because it hits the gut so hard. It's all so simple, it's hard to believe." Peter Elkus' vocal and instrumental master classes have been presented in 10 countries from the Teatro Colon, Buenos Aires, the Theatre Champs Elys e, Paris, to the Hochschule f r Music in Vienna. During the 10 years of their collaboration, his former wife and student, mezzo soprano Frederica von Stade, won 11 Grammy Nominations - 8 in the category of Best Classical Vocalist.