You are here
I Am Worthy: 8 Building Blocks to Restore Your Self-Worth After Abuse and Trauma (Paperback)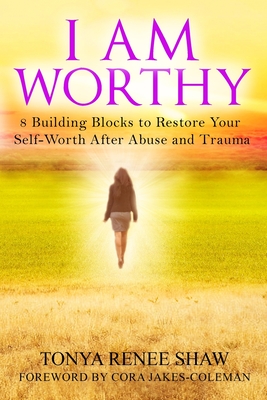 $18.99

Usually Ships To the Store in 1-5 Days
Description
---
Title of book: I Am Worthy
8 Building Blocks to Restore Your Self-Worth After Abuse and Trauma
By: Tonya Renee Shaw
Feeling unworthy?
Questioning the existence of Jesus Christ?
Feeling like a failure?
Questioning the purpose of your life?
Are you WORTHY?
Of course, you are but,
IT TAKES STRATEGY TO TAKE BACK WHAT IS RIGHTFULLY YOURS
Your WORTHINESS is yours
Are you ready to face the truth of your now?
Are you ready to discover your worthiness after the rape?
Are you ready to walk through and forgive your abuser?
Are you ready to overcome worthless thoughts?
Are you ready to forgive yourself?
Are you ready to find out what God has to say about you?
Are you ready to find out what you mean to Jesus Christ?
In I Am Worthy, author Tonya Renee Shaw reveals practical steps and techniques that will enable you to destroy the root cause of those unworthy emotions that have held you fighting against your destiny. Tonya has developed an interactive self-help book to guide you through the darkest seasons of your life and restore your self-worth.
This Self-Help Book,
- Explains how to dig deep within your emotions to destroy the root cause of your current thinking patterns.
- Teaches how to acknowledge and identify areas of your life where you feel worthless with the direction to overcome.
- Illustrates the power, love, and strength of Jesus Christ through acceptance and counsel.
- Encourages readers to operate in forgiveness, so they may walk in worthiness.
- Demonstrates practical ways to receive and release love after abuse and trauma.
- Provides interactive lessons to help the reader understand the power of affirmation.
- Proves that no matter what happens in your life, YOU ARE WORTHY
Tonya Renee Shaw is a member of Potter's House Church located in Dallas, Texas, where she resides. She is a woman who has found her worth in the Word. She is a mother of six beautiful children. She graduated from Missouri Western State University with a Bachelor's Degree in Criminal Justice. She is the Founder of Tonya Renee Shaw Ministries, where she has built a lifestyle of prayer, scribing, and motivating women to keep going.
Tonya is a woman of faith and prayer.
Tonya is a woman that loves God's people.
Tonya has a roar that shakes hell.
Let's Take a Journey inside of YOU Because YOU matter
I, promise you; you will survive this, whatever your "this" is.
I, promise you; your life is not over.
I, promise you; when you walk in worth, you will operate in power.
I, promise you; your mistakes will no longer hinder you.
I, promise you; what happened to you was not your fault.
I, promise you; that you are the salt.
I, promise you; that you will know to learn to know God as your Father.