You are here
The Lost Carousel of Provence (Paperback)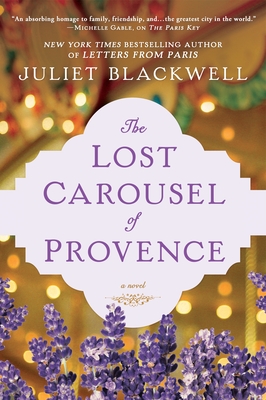 $17.60

Special Order - Arrival Times Vary
Description
---
An artist lost to history, a family abandoned to its secrets, and the woman whose search for meaning unearths it all in a sweeping and expressive story from the New York Times bestselling author of Letters from Paris.

Long, lonely years have passed for the crumbling Château Clement, nestled well beyond the rolling lavender fields and popular tourist attractions of Provence. Once a bustling and dignified ancestral estate, now all that remains is the château's gruff, elderly owner and the softly whispered secrets of generations buried and forgotten.

But time has a way of exposing history's dark stains, and when American photographer Cady Drake finds herself drawn to the château and its antique carousel, she longs to explore the relic's shadowy origins beyond the small scope of her freelance assignment. As Cady digs deeper into the past, unearthing century-old photographs of the Clement carousel and its creators, she might be the one person who can bring the past to light and reunite a family torn apart.
About the Author
---
Juliet Blackwell was born and raised in the San Francisco Bay Area, the youngest child of a jet pilot and an editor. She graduated with a degree in Latin American studies from the University of California, Santa Cruz, and went on to earn master's degrees in anthropology and social work. While in graduate school, she published several articles based on her research with immigrant families from Mexico and Vietnam, as well as one full-length translation: Miguel León-Portilla's seminal work, Endangered Cultures. Juliet taught medical anthropology at SUNY–Albany, was producer for a BBC documentary, and served as an elementary school social worker. Upon her return to California, she became a professional artist and ran her own decorative painting and design studio for more than a decade. In addition to mainstream novels, Juliet pens the New York Times bestselling Witchcraft Mysteries and the Haunted Home Renovation series. As Hailey Lind she wrote the Agatha Award–nominated Art Lover's Mystery series She makes her home in northern California, but spends as much time as possible in Europe and Latin America.
Praise For…
---
Praise for The Lost Carousel of Provence
 
"Blackwell uses an outsider's passion to shine a light into the dark past of a broken family and how a sweet, wooden rabbit can bring them together again."—The Associated Press

"Plan your trip to Provence now. In this meticulously researched novel, Juliet Blackwell deftly navigates three time periods, taking us from contemporary California to both The Belle Époque and Nazi-occupied France as she spins a story as charming as an antique carousel."—Sally Koslow, author of Another Side of Paradise

"An untrusting American orphan meets a dysfunctional French family—and each turns out to possess wisdom that helps the other to heal from old, old wounds. With crystalline imagery, vivid characters and lively prose, Juliet Blackwell redefines what family means, in a way that will touch readers long after they've read the last page. As Cady points her camera at one antique carousel after another, this novel should come with a warning: Will cause enormous desire to travel to France."—Stephen P. Kiernan, author of The Baker's Secret

"Narrating from several perspectives, Blackwell weaves together a tale of love lost, repressed passion, and finding a sense of belonging that should utterly charm and delight readers new to her and current fans alike."—Booklist

Praise for Letters from Paris

"Blackwell seamlessly incorporates details about art, cast making, and the City of Light...[and] especially stuns in the aftermath of the main story by unleashing a twist that is both a complete surprise and a point that expertly ties everything together."—Publishers Weekly

"Best-selling author Blackwell brings us another captivating tale from the City of Light....this romantic and picturesque novel shows us that even the most broken people can find what makes them whole again."—Booklist

"Blackwell paints a picture of Paris that is both artistically romantic and realistically harsh...A compelling story of Paris, art, and love throughout history."—Kirkus Reviews

"A great tale of mystery, artistry, history, and a little romance. With plenty of backstory and tidbits about Parisian life in the 19th century, there's something for everyone in this recommended read."—Library Journal

Praise for The Paris Key

"A charming protagonist and a deep well of family secrets, all gorgeously set in the City of Lights."—Michelle Gable, international bestselling author of I'll See You in Paris

"[A] witty, warm, winsome novel...[Blackwell's] generation-spanning tale combines intrigue and passion with a flawless ear for language and a gift for sensory detail."—Sophie Littlefield, bestselling author of The Guilty One