You are here
Lament from Epirus: An Odyssey into Europe's Oldest Surviving Folk Music (Hardcover)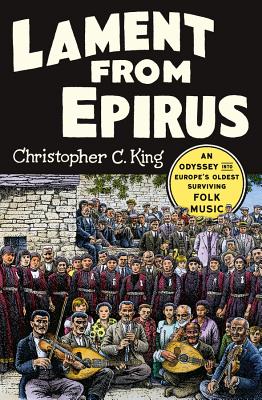 $29.95

On Our Shelves Now (Please wait for us to confirm and & contact you when it's ready)
Description
---
A Wall Street Journal Best Book of 2018



In the tradition of Patrick Leigh Fermor and Geoff Dyer, a Grammy-winning producer discovers a powerful and ancient folk music tradition.
In a gramophone shop in Istanbul, renowned record collector Christopher C. King uncovered some of the strangest—and most hypnotic—sounds he had ever heard. The 78s were immensely moving, seeming to tap into a primal well of emotion inaccessible through contemporary music. The songs, King learned, were from Epirus, an area straddling southern Albania and northwestern Greece and boasting a folk tradition extending back to the pre-Homeric era. To hear this music is to hear the past.
Lament from Epirus is an unforgettable journey into a musical obsession, which traces a unique genre back to the roots of song itself. As King hunts for two long-lost virtuosos—one of whom may have committed a murder—he also tells the story of the Roma people who pioneered Epirotic folk music and their descendants who continue the tradition today.
King discovers clues to his most profound questions about the function of music in the history of humanity: What is the relationship between music and language? Why do we organize sound as music? Is music superfluous, a mere form of entertainment, or could it be a tool for survival? King's journey becomes an investigation into song and dance's role as a means of spiritual healing—and what that may reveal about music's evolutionary origins.
About the Author
---
Christopher C. King, a Grammy-winning producer, musicologist, and prominent 78 RPM record-collector, has written for The Paris Review and the Oxford American. Profiles of him have appeared in the New York Times Magazine and Washington Post. He lives in Virginia.
Praise For…
---
Half travelogue, half meditation, all confession, King's book is compelling, illuminating and funny.
— Francis Gooding - The Wire

This engaging, well-researched, and peculiar book is not only a work of music criticism or a philosophical rumination on the meaning of music—it's also a travelogue in which the writer goes native.


— New York Review of Books

Enjoy the hypnotic clarity of the landscape—physical, human and musical—that [King] paints. ... [Epirus's] depth and freshness are undeniable, and I thank Mr. King for giving me a sip.
— Wall Street Journal

The culmination of King's devotion to the music of this region and its connections to the lost traditions of American folk music… When you put down the book, having read King's rapturous descriptions of the tunes he loves, your own collection will seem suddenly aglow with a curious new power.
— Oxford American

A must-read volume for those interested in music, even if your village is about as far from Epirus as can be… King explores music as a powerful form of communication, a tool for healing and even survival, as a shared experience for the community.
— The National Herald

A strange, hallucinatory musical odyssey.
— MOJO

Anyone interested in the power of music—spiritually, culturally, historically, or politically—will find this odyssey to be transformative. By way of an anthropological detective story, Christopher King deftly reveals details and echoing connections I personally never even imagined. Fascinating.
— Jim Jarmusch

Christopher King is a weird-old-music savant, a gifted collector, engineer, and student of early recordings. He is also a writer, one who has begun to unfold what he knows in essays of increasing excellence. I think of him mainly, though, as a navigator, whose observations I wait for the way sixteenth-century merchants may have waited on sailors' reports from America.
— John Jeremiah Sullivan, author of Pulphead

Christopher King is a formidable scholar and a magnificent writer, but what he does best is listen. No one has taught me more about music.
— Amanda Petrusich, author of Do Not Sell at Any Price

Lament from Epirus is a master class in listening. Record collector and music scholar Christopher King goes to northwestern Greece, drinks 'perception-altering' tsipouru, dances in the street, and brings back as many stories as records…King captures the transcendence of both the music and the land.

— Sasha Frere-Jones, writer and musician

A rich, compelling, and fascinating insight into some of the strangest music on earth, Lament from Epirus takes us on a search to discover insights into the mysterious and unexplainable.

— Terry Zwigoff, director of Ghost World

Christopher King's relationship to music is passionate and profound. As a scholar and obsessive collector of 78s he has few peers. Lament from Epirus will delight anyone who has ever put the needle down on an unknown record and waited to see what would come out of the speakers.

— Hari Kunzru, author of White Tears

A blithely informative, immensely entertaining, beautifully written discourse on a music tradition, born in an isolated mountain region long before Homer composed his epics, whose echoes can still be heard today all over the world.
— Nicholas Gage, author of Eleni

Obsession makes for good books. … [King's] rapture propels and frequently erupts into the prose of his report on his multifaceted quest … [he] remains ardent to the point of mania throughout, so infusing us with his passion that even passages on music theory and the crafting of ancient instruments enthrall. This is a trip never to be forgotten.
— Booklist (starred review)

A potent tale of discovery and loss in the isolated mountain villages of northwestern Greece … a singularly fascinating musical odyssey.
— Library Journal (starred review)

Vivid and engaging. …[E]nthusiasts will find much of interest in this well-researched book.
— Publishers Weekly

A fascinating journey led by a passionate guide.
— Kirkus