You are here
The Roadmap to 100: The Breakthrough Science of Living a Long and Healthy Life (Paperback)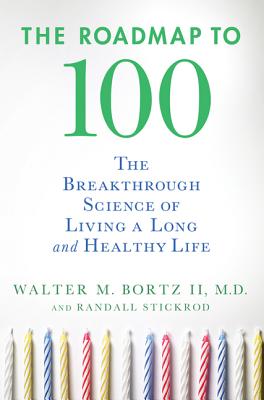 Description
---
With a baby boomer turning sixty every ten seconds, we are rapidly becoming an aging society. But cutting edge research on the connection between age and disease shows us that many of the preconceptions we had about how to grow old need a second look. This groundbreaking book is full of take-away prescriptive advice which the nearly seventy-five million boomers in this nation will value. Top gerontologist and Stanford medical school professor Dr. Walter Bortz and co-author Randall Stickrod draw on new science and a thirty-year longitudinal study of centenarians to show that:

• Genetics plays a smaller role in aging than previously thought

• Senility, dementia, and other diseases of the elderly, are largely preventable and not an inevitable consequence of aging

• Engagement, through sexual relationships, social interaction, and professional activity, is a key factor in long, healthy lives

• Physical fitness can recover at least 30 years of aging

Filled with in-depth insight and practical advice, The Roadmap to 100 gives you the power to control your own destiny and live well beyond 100.
About the Author
---
Walter Bortz, M.D. is clinical associate professor of Medicine at the Stanford University School of Medicine and author of Dare to Be 100. He is past co-chairman of the American Medical Association's Task Force on Aging and former president of The American Geriatric Society. A firm believer in practicing what you preach, Dr. Bortz has been a marathoner for four decades, running his 40th marathon in April 2010 in Boston at the age of 80. Bortz is a frequent face on the lecture circuit, sharing his enthusiasm for healthy living and a robust life with hundreds of audiences annually.
Randall Stickrod is a long time science and technology publisher and writer, and the founding editor of
Wired
.
Praise For…
---
"[The authors] present a persuasive case, backed up by numerous studies, and outline specific behaviors people can adopt to live longer and live well … readable and engaging." —Los Angeles Times

"Bortz's thinking and writing is deep, penetrating, funny and totally motivating." —Runner's World

"Bortz is on a mission. He wants everyone to get fit and realize their human potential, which he believes means living to be 100 years old for many people." —San Jose Mercury News

"Presents solid, peer-reviewed research that confirms the belief that fitness – not antioxidant supplements, or gene and hormone therapy, or the latest "super fruit" – is the key to extending and improving life. " —The Sacramento Bee

"If you want to reach your hundredth birthday with a clear mind and a strong body, this is your textbook." —Erica Jong

"Wally Bortz shows how to grow old with dignity, wisdom, and good health. His work is important, his passion for life undimmed." —Eric Schlosser, author of Fast Food Nation

"Physician and aging researcher, Dr. Wally Bortz from the Stanford Medical School makes a solid case for how we can dramatically impact our own lifelong health through vigorous and sustained exercise. He draws on cutting edge science that shows that we get weaker as the decades pass, not necessarily due to aging, but rather because we don't challenge our bodies enough. The Roadmap to 100 shows how staying engaged cuts across all fields – exercising, socializing, keeping sexuality alive – can prolong your life for many decades. This is a fantastic book and Bortz is a true trailblazer." —Ken Dychtwald, Ph.D., author of Bodymind, Healthy Aging, The Age Wave and A New Purpose: Redefining Money, Family, Work, Retirement and Success.

"At 80 years young, Dr Walter Bortz brings an energy to his work that exceeds that of most 20 year olds. He challenges us with an uplifting message: we are each ultimately responsible for our own health, and that by remaining fully engaged--in our communities, in physical fitness, by maintaining our intellect and being creative--we can extend our lives and make them worth living." —Jim Collins, author of Good to Great

"Here is a fast paced and lively guide on how to live longer. Wally Bortz's clear and direct message emphasizes the importance of action, motion, and engagement in maintaining 'vim and vigor,' as JFK described the vitality we all seek." —Seth Landefeld, MD, Professor of Medicine, Chief, Division of Geriatrics, University of California at San Francisco

"With his enthusiasm and insight, Walter Bortz makes us want to go further and explore all the options of aging. The Roadmap to 100 is a spirited romp through the process of gaining wisdom and pleasure as we continue on and on." —Bonnie Matheson, author of Ahead of the Curve

"Reaching an active and health 100 years old is something we can all do now--thanks to recent studies that show it is more than just the luck of your genes. Dr. Wally Bortz of Stanford Medical School shows us in this book that we can do a lot to determine our health – in this practical book, he lays out a program for an active and physical lifestyle that will change both your outlook and your outcome. Read this book and let Dr. Bortz guide you on healthy aging!" —Dr. Robert Butler, author of The Longevity Revolution

"Unlike the generalizations with which doctors usually instruct their patients, this book outlines in clear, concise prose what we can do to remain fully functional as we age. Moreover, it explains exactly how the interventions recommended work to preserve health and competence. The book is a welcome aid to helping people live better as well as longer." —Marianne Legato, author of Why Men Die First

"Ever since I learned that Jeanne Calment said at 120 she had only one wrinkle, and she was sitting on it, I figured that humor must be the key to longevity. Since then I met Walter M. Bortz--marathoner, thinker, and former head of the American Geriatrics Association. No one has been a more avid gatherer and popularizer of data on the importance of exercise to the project of happiness and longevity. But Bortz's vision extends further, to a whole new medicine based on empowerment and prevention, and informed by evolution and energy science. Bortz's vision is contagious, and I'm a subscriber!" —Dorion Sagan, author of Biospheres

"With longevity becoming the new norm, we can use all the help we can get from the experts to help us along." —Edgar Mitchell, Sc.D. Founder of the Institute of Noetic Sciences; Astronaut Apollo 14

"The Roadmap to 100 challenges you to take ownership of your health, to learn to take responsibility for it and not rely blindly on medical technology to repair the damage we do to ourselves." —The Union

"...easy to read, easy to follow...should be everyone's guide to growing older." —Jack LaLanne, with praise for DARE TO BE 100

"I was riveted to DARE to Be 100...It's a splendid book." —Erica Jong with praise for DARE TO BE 100

"DARE to Be 100 is the most thorough examination I've seen of all we can do to live a long and fulfilling life." —Dean S. Edell, M.D., medical journalist with praise for DARE TO BE 100