You are here
The Last Writings of Thomas S. Kuhn: Incommensurability in Science (Hardcover)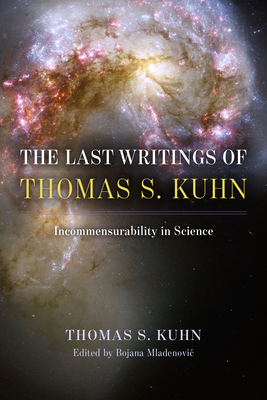 $27.50

On Our Shelves Now (Please wait for us to confirm and & contact you when it's ready)
Description
---
A must-read follow-up to The Structure of Scientific Revolutions, one of the most important books of the twentieth century. 

This book contains the text of Thomas S. Kuhn's unfinished book, The Plurality of Worlds: An Evolutionary Theory of Scientific Development, which Kuhn himself described as a return to the central claims of The Structure of Scientific Revolutions and the problems that it raised but did not resolve. The Plurality of Worlds is preceded by two related texts that Kuhn publicly delivered but never published in English: his paper "Scientific Knowledge as Historical Product" and his Shearman Memorial Lectures, "The Presence of Past Science." An introduction by the editor describes the origins and structure of The Plurality of Worlds and sheds light on its central philosophical problems. 

Kuhn's aims in his last writings are bold. He sets out to develop an empirically grounded theory of meaning that would allow him to make sense of both the possibility of historical understanding and the inevitability of incommensurability between past and present science. In his view, incommensurability is fully compatible with a robust notion of the real world that science investigates, the rationality of scientific change, and the idea that scientific development is progressive.  
About the Author
---
 Thomas S. Kuhn (1922–96) was the Laurence S. Rockefeller Professor of Philosophy at the Massachusetts Institute of Technology. His books include The Essential Tension; Black-Body Theory and the Quantum Discontinuity, 1894–1912; and The Copernican Revolution.
Bojana Mladenović
is professor of philosophy at Williams College. She is the author of
Kuhn's Legacy: Epistemology, Metaphilosophy, and Pragmatism
. 
Praise For…
---
"Combining Kuhn's unfinished last book, The Plurality of Worlds, with two related works not previously available in English, and a substantial and illuminating introduction by editor Bojana Mladenovic, The Last Writings of Thomas S. Kuhn will be received as an absolute gem by philosophers of science, as well as by the wide swath of academics across the social sciences and humanities who revere Kuhn."
— Cheryl Misak, Department of Philosophy, University of Toronto, author of "Frank Ramsey: A Sheer Excess of Powers"

"Thomas S. Kuhn's seminal 1962 history The Structure of Scientific Revolutions gets a posthumous follow-up in this complex volume edited by Mladenovic... Philosophy lovers... will find plenty to chew on."
— Publishers Weekly