You are here
Chhotu (Paperback)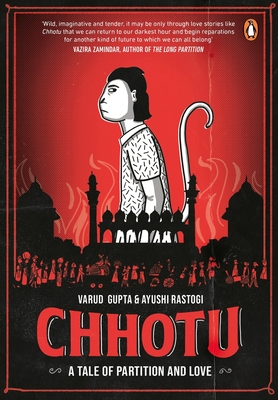 $12.95

Special Order - Arrival Times Vary
Description
---
The year is 1947. The British are slowly marking their departure from the country. And while Partition looms large over India, Chhotu, a student-cum-paranthe-cook in the dusty gullies of Chandni Chowk, has other things on his mind-like feeling the first flushes of love of his crush, Heer, the new girl at school.
When he finally decides to make a move, Chhotu soon finds the town's aloo has suddenly gone missing, reluctantly embroiling himself into the world of corruption, crime and dons. As he struggles to understand what freedom truly means, Chhotu realizes one thing is for certain-that his world, and the world of those around him, is about to change forever.
Set against the backdrop of Partition and the horrors that followed, Chhotu is a coming-of-age story of an unlikely hero and a parable of a past that doesn't feel too removed from the present.
About the Author
---
Varud Gupta was bred for the business world, a past life spent studying finance at New York University and working as a consultant for Deloitte. And then a brusque millennial existential crisis sent him travelling (and eating) through the culinary cultures of the world. It was in documenting these odd jobs-from cheesemongering in NY to being an asador in Argentina-that his journey as a writer began. Obsessed with storytelling, Varud wrote his first book, Bhagwaan Ke Pakwaan, which was a cookery-cum-travel narrative through the faiths and foods of India. The story of Chhotu represents the culmination of the first chapter on this existential path and the search for purpose in a world that can often feel so bleak.
Ayushi Rastogi was born into a family of artists, studying communication design at Pearl Academy followed by a deep dive into illustration and branding at the Academy of Art in San Francisco. It was her upbringing that instilled a need to seek social responsibility in her work; that the stories of art can also drive change. She's created a board game for children with dyslexia, illustrated a children's series that tackles topics of diversity and designed books that explore nature conservation, Delhi pollution and much, much more. And through Chhotu she aims to bring to life a fear that gnaws at our everyday lives.