You are here
The Liars' Club: A Memoir (Penguin Classics Deluxe Edition) (Paperback)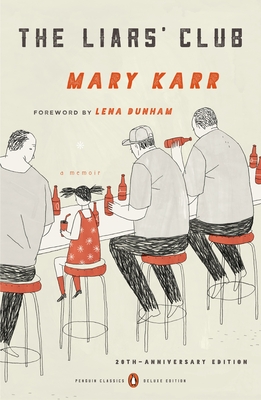 $18.00

On Our Shelves Now (Please wait for us to confirm and & contact you when it's ready)
Description
---
#4 on The New York Times' list of The 50 Best Memoirs of the Past 50 Years

The New York Times bestselling, hilarious tale of a hardscrabble Texas childhood that Oprah.com calls the best memoir of a generation—now with a foreword by Lena Dunham in celebration of its twentieth anniversary
 
"Wickedly funny and always movingly illuminating, thanks to kick-ass storytelling and a poet's ear." —Oprah.com

The Liars' Club took the world by storm and raised the art of the memoir to an entirely new level, bringing about a dramatic revival of the form. Karr's comic childhood in an east Texas oil town brings us characters as darkly hilarious as any of J. D. Salinger's—a hard-drinking daddy, a sister who can talk down the sheriff at age twelve, and an oft-married mother whose accumulated secrets threaten to destroy them all. This unsentimental and profoundly moving account of an apocalyptic childhood is as "funny, lively, and un-put-downable" (USA Today) today as it ever was.

For more than seventy years, Penguin has been the leading publisher of classic literature in the English-speaking world. With more than 1,500 titles, Penguin Classics represents a global bookshelf of the best works throughout history and across genres and disciplines. Readers trust the series to provide authoritative texts enhanced by introductions and notes by distinguished scholars and contemporary authors, as well as up-to-date translations by award-winning translators.
About the Author
---
Mary Karr kick-started a memoir revolution with The Liars' Club, which was a New York Times bestseller for over a year, a best book of the year for The New York Times Book Review, The New Yorker, People, and Time, a finalist for the National Book Critics Circle Award, and the winner of prizes from PEN and the Texas Institute of Letters. Karr has won the Whiting Award, Radcliffe's Bunting Fellowship, and Pushcart Prizes for both verse and essays, and she has been a Guggenheim Fellow in poetry. Her other bestselling books include The Art of Memoir, the memoirs Lit and Cherry, and the poetry collections Sinners Welcome, Viper Rum, The Devil's Tour, and Abacus. The Peck Professor of Literature at Syracuse University, Karr lives in New York City.
 
Lena Dunham (foreword) is the creator of the critically acclaimed HBO series Girls and the author of the New York Times bestselling essay collection Not That Kind of Girl. A frequent contributor to The New Yorker, she lives in Brooklyn and Los Angeles.

Brian Rea (cover illustrator) is the longtime illustrator for the New York Times' "Modern Love" column and a former art director for the New York Times op-ed page. His design clients include Kate Spade, Honda, Billabong, Herman Miller, and MTV. Rea lives in Los Angeles.
Praise For…
---
"For a certain group of twenty-something women, consumption of, and passion for, The Liars' Club is both a rite of passage and a mode of self-identification. . . . I am lucky I was eight when this book was published. I am lucky I grew up in a world where it colored people's reactions to personal stories, female stories. We all are. Because The Liars' Club is more than an account of a tattered childhood and one brave and brilliant woman's attempt to use it rather than deny it. It is an aggressive tap on the shoulder in a crowded room, a smiling funny face asking its readers: 'Wanna be friends?' " —Lena Dunham, from the Foreword

"The essential American story . . . A great pleasure to read." —The Washington Post Book World

"Astonishing . . . one of the most dazzling and moving memoirs to come along in years . . . [Karr's] most powerful tool is her language, which she wields with the virtuosity of both a lyric poet and an earthy, down-home Texan. It's a wonderfully unsentimental vision." —The New York Times

"This is what the memoir is supposed to be." —Stephen King, Entertainment Weekly

"This book is so good I thought about sending it out for a backup opinion. . . . It's like finding Beethoven in Hoboken. To have a poet's precision of language and a poet's insight into people applied to one of the roughest, toughest, ugliest places in America is an astonishing event." —Molly Ivins, The Nation

"Overflows with sparkling wit and humor . . . Truth beats powerfully at the heart of this dazzling memoir." —San Francisco Chronicle

"Karr lovingly retells [her parents'] best lies and drunken extravagances with an ear for bar-stool phraseology and a winking eye for image. The revelations continue to the final page, with a misleading carelessness as seductive as any world-class liar's." —The New Yorker

"Karr has drawn black gold from the [Texan] mud." —Texas Monthly

"Karr's God-awful childhood has a calamitous appeal. The choice in the book is between howling misery and howling laughter, and the reader veers toward laughter. Karr has survived to write a drop-dead reply to the question, 'Ma, what was it like when you were a little girl?' " —Time

"Mary Karr is a phoenix. That she arose from any fire to create poetry says as much about poetry as it does about Mary Karr." —Mary-Louise Parker on her favorite memoir, The Liars' Club, in Ladies' Home Journal