You are here
Man Made Boy (Paperback)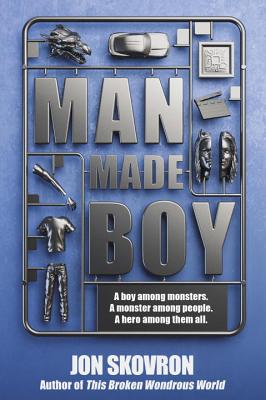 $12.09
Email or call for price.
Description
---
"Refreshing…Never veers into horror, staying strictly on the side of realistic—if, you know, there were monsters—and heartwarming adventure…An original."
—io9.com
 
"Monstrously fun…Heartwarming, hilarious, and full of memorable characters. You won't be able to put this one down!"
—John Corey Whaley, Michael L. Printz Award-winning author of Where Things Come Back and Noggin

His name, believe it or not, is Boy.
 
Boy is (among other things):
 
seventeen years old,
 
a genius computer hacker on the brink of creating an artificial intelligence,
 
and obsessed with a girl.
 
But there's something even more that sets Boy apart.
 
For one, he's never been out in public.
 
And here's something else: he isn't even human.
 
Now it's time for him to run away from the home he's known and step out into the real world. But it's a hard world out there…
 
Especially if you're a monster.
 
Books in the series:

Man Made Boy (Book 1)
This Broken Wonderous World (Book 2)
About the Author
---
Jon Skovron (jonskovron.com) has been an actor, musician, lifeguard, Broadway theater ticket seller, warehouse grunt, technical writer, and web developer. He has nine fingers, dislikes sweets, and possesses a number of charming flaws. He was born in Columbus, Ohio, and after traveling around a while, he has settled, somewhat haphazardly, in the Washington, D.C., area, where he and his two sons can regularly be seen not fitting into the general Government scene. Follow Jon on Twitter @jonnyskov.
Praise For…
---
Praise for MAN MADE BOY by Jon Skovron:

"Man Made Boy is monstrously fun.  Skovron weaves all things creepy and strange into a tale that is heartwarming, hilarious, and full of memorable characters. You won't be able to put this one down!" —John Corey Whaley, winner of the Michael L. Printz Award for Where Things Come Back
 
"A remarkable mash-up of Old World myth and post-modern techno-geek, Man Made Boy is one of the most original and compelling tales I've encountered. Evocative and utterly engrossing, Skovron has mastered the beauty, tragedy, and hilarity of the fine line between monsters and men. Read this book and marvel at his creation." —Andrea Cremer, bestselling author of the Nightshade series

"This book has heart, brains, and everything else a book (or a monster or a reader) needs. Love monsters? If you do, Jon Skovron's Man Made Boy is for you. If you don't, why not?" —Kelly Link, award-winning author of Magic for Beginners

"A comically creepy coming-of-age road trip..." —Kirkus

"...a clever reimagining of Shelley's Frankenstein..." —Booklist

" [a] tumultuous tale of attachment and growth..."  —Publishers Weekly

"Boy is a guy to whom plenty of teens will relate, and they'll be pleased to discover that the big wide world has a place for just about everyone and every monster." —BCCB