You are here
Dirty Genes: A Breakthrough Program to Treat the Root Cause of Illness and Optimize Your Health (Hardcover)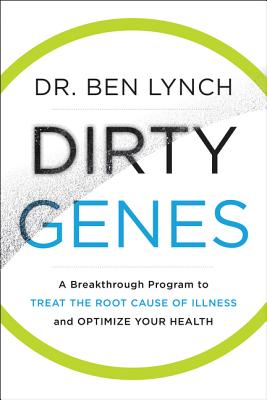 $27.99
Email or call for price.
Description
---
Instant National Bestseller
After suffering for years with unexplainable health issues, Dr. Ben Lynch discovered the root cause—"dirty" genes. Genes can be "born dirty" or merely "act dirty" in response to your environment, diet, or lifestyle—causing lifelong, life-threatening, and chronic health problems, including cardiovascular disease, autoimmune disorders, anxiety, depression, digestive issues, obesity, cancer, and diabetes.
Based on his own experience and successfully helping thousands of clients, Dr. Lynch shows you how to identify and optimize both types of dirty genes by cleaning them up with targeted and personalized plans, including healthy eating, good sleep, stress relief, environmental detox, and other holistic and natural means.
Many of us believe our genes doom us to the disorders that run in our families. But Dr. Lynch reveals that with the right plan in place, you can eliminate symptoms, and optimize your physical and mental health—and ultimately rewrite your genetic destiny.
About the Author
---
DR. BEN LYNCH  received his doctorate in naturopathic medicine from Bastyr University. He has supported thousands of clients and trained thousands of physicians and health professionals across the globe in using insights from epigenetics to optimize health. He is the founder of Seeking Health, a company that helps educate both the public and health professionals how to overcome genetic dysfunction through diet, lifestyle, and supplements. He lives in Seattle, Washington, with his wife and three sons.
Praise For…
---
"Dirty Genes powerfully challenges the notion that genes are the final arbiters of health and disease. Dr. Ben Lynch skillfully reveals how leveraging specific lifestyle choices can help re-write our health destiny."
— David Perlmutter MD, #1 New York Times bestselling author of Grain Brain and The Grain Brain Whole Life Plan

"A must-have companion for anyone struggling to sort out the confusing world of genetic science for the consumer. Have you thought that your genes were your destiny? Dirty Genes will give you the ability to actually reprogram your genes to have a long and healthy life."
— Alan Christianson, NMD, New York Times bestselling author of The Adrenal Reset Diet

"Myth busting the assumption that genes lead to disease, Dr. Ben Lynch provides a do-it-yourself guide to personalizing your health through the lens of susceptibilities, none of which signify your destiny. Dirty Genes teaches the power that we have to heal, against all odds."
— Kelly Brogan, MD, New York Times bestselling author of A Mind of Your Own

"Dr. Ben Lynch nails it with Dirty Genes. It is a pleasure reading as his indomitable 'rower' personality truly comes through, warm, funny, friendly, simplifying without oversimplifying, and highly organized. If you care about the future of medicine and the central importance of the gene/environment interaction, read this book."
— Sara Gottfried, MD, New York Times bestselling author of Younger, The Hormone Reset Diet, and The Hormone Cure

"Dr. Lynch gives hope to the millions of people seeking information about their genetics...to bypass genetic weakness, improve cell function and optimize health.  Dirty Genes offers a cutting-edge roadmap for healing the body and mind, including the whole brain, microbiome and gut, by activating your genetic potential." 
— Raphael Kellman, MD, author of The Microbiome Diet and The Whole Brain

 "Dr. Lynch cuts through the hype around genetics, and shows us exactly what our genes can—and can't—tell us, and what we should do about it. A must read for both patients and practitioners who want to better understand how to use their genetic information to optimize their health."
— Chris Kresser, MS, LAc, New York Times bestselling author of The Paleo Cure

"By understanding your unique genetic code, you can optimize your health, prevent and even reverse disease, and live a full and vital life. This great book by Dr. Lynch provides an easy to understand guide to taking full control of your health."
— Dr. Joseph Pizzorno, founder of Bastyr University, author of The Toxin Solution and bestselling coauthor of Encyclopedia of Natural Medicine.

 "Dr. Ben Lynch delivers on a solutions-based approach to personalized medicine by showing the reader how to harness the potential of their genes through well-researched food and lifestyle approaches. Of course, we know that no genes are truly bad—it's how we make the right choices to optimize them."
— Dr. Deanna Minich, functional medicine nutritionist and author of Whole Detox

"Dirty Genes is an empowering, actionable, and practical guide on how to optimize our health and make the best of our genes. I highly recommend this book to every person who is struggling with health challenges or simply wants to optimize their health."

— Dr. Izabella Wentz, #1 New York Times bestselling author of Hashimoto's Protocol

"Dr. Lynch has written what will certainly become one of the definitive guides to 22nd Century medicine…a roadmap for filtering out the complex, the ill-defined, and the humbug in genomics so you can discover the insights and master the tools to harness the phenomenal power of this emerging medicine."
— Peter D'Adamo, ND, New York Times bestselling author of Eat Right 4 Your Type

"Dr. Ben Lynch expertly provides insights and answers you can apply today in an area that will certainly play a major role in medicine in the future—namely, how we can maximize our health and genetic potential by cleaning up our "dirty genes." 
— Michael T. Murray, ND, bestselling coauthor of The Encyclopedia of Natural Medicine

"Dirty Genes is a must read for those of us looking for the missing keys to the best versions of ourselves, and a game changer for those of us who have been searching for why we don't feel so well despite our best intentions."
— Dr. Jillian Sarno Teta, author of Natural Solutions for Digestive Health

"Dr. Lynch's message that you can control your genes and attack the cause of health problems can be life changing for many people. Dirty Genes is a valuable guide for anyone interested in improving their health and learning the why's behind their health concerns and goals."
— Brad Kearns, New York Times bestselling co-author of The Keto Reset Diet