You are here
The Dispossessed: A Novel (Hainish Cycle) (Paperback)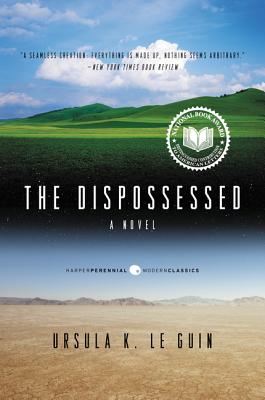 $16.99

On Our Shelves Now (Please wait for us to confirm and & contact you when it's ready)
Description
---
"One of the greats….Not just a science fiction writer; a literary icon." – Stephen King
From the brilliant and award-winning author Ursula K. Le Guin comes a classic tale of two planets torn apart by conflict and mistrust — and the man who risks everything to reunite them.
A bleak moon settled by utopian anarchists, Anarres has long been isolated from other worlds, including its mother planet, Urras—a civilization of warring nations, great poverty, and immense wealth. Now Shevek, a brilliant physicist, is determined to reunite the two planets, which have been divided by centuries of distrust. He will seek answers, question the unquestionable, and attempt to tear down the walls of hatred that have kept them apart.
To visit Urras—to learn, to teach, to share—will require great sacrifice and risks, which Shevek willingly accepts. But the ambitious scientist's gift is soon seen as a threat, and in the profound conflict that ensues, he must reexamine his beliefs even as he ignites the fires of change.
About the Author
---
Ursula Kroeber Le Guin was born in 1929 in Berkeley, and lives in Portland, Oregon. As of 2014, she has published twenty-one novels, eleven volumes of short stories, four collections of essays, twelve books for children, six volumes of poetry, and four of translation, and has received many honors and awards, including the Hugo, Nebula, National Book Award, and PEN/Malamud. Her most recent publications are Finding My Elegy: New and Selected Poems and The Unreal and the Real: Selected Stories.
Praise For…
---
"Written with thought, care—even love."
— Times Literary Supplement (London)

"Excellent characterization and meaningful ideas make this one of the most important [science fiction] novels of the last several years."
— Library Journal

"This novel, by a celebrated Hungarian poet, depicts the world of his childhood…The narrator, a young boy whose family is shunned-it was once wealthy and is suspected of being Jewish-endures beatings, hunger, and taunts with the fatalism of someone who has never known anything else."
— New Yorker

"Le Guin's characters, sepecially Shevek and his family, are complex and haunting, and her writing is remarkable for its sinewy grace."
— Time magazine

"Engrossing . . . Ursula Le Guin is more than just a writer of adult fantasy and science fiction . . . she is a philosopher; an explorer in the landscapes of the mind."
— Cincinnati Enquirer

"A seamless creation: every thing is made up, nothing seems arbitrary...Le Guin's book [is] written in her solid, no-nonsense prose."
— New York Times Book Review

"Brilliantly conceived and stunningly executed . . . The setting is science fiction, but the tradition is humanistic, reducing life to its essentials and examining human beings in a real world."
— Chicago Daily News

"The novel flashes back and forth . . . and delicately develops both the strengths and weaknesses of the two social systems, the contrasting textures of the two kinds of social experience . . . All through, this impresses with small but incalculably right choices which add up solidly and confirm Ms. Le Guin as one of our finest projectionists of brave old and other worlds."
— Kirkus Reviews